Author and Pontas client Gustavo Rodríguez traveled to Spain to promote his new novel Cien cuyes (One Hundred Guinea Pigs) which recently won the Alfaguara Prize 2023 and was published on March 23rd 2023 in all Spanish-language territories. Cien cuyes will also travel internationally in 2024: World English rights have been sold to Charco Press, French rights have been sold to Éditions de l'Observatoire, who also published Madrugada (Dawn) by the author in 2020, and Italian rights were acquired by Bompiani. All other translation and audiovisual rights are currently available.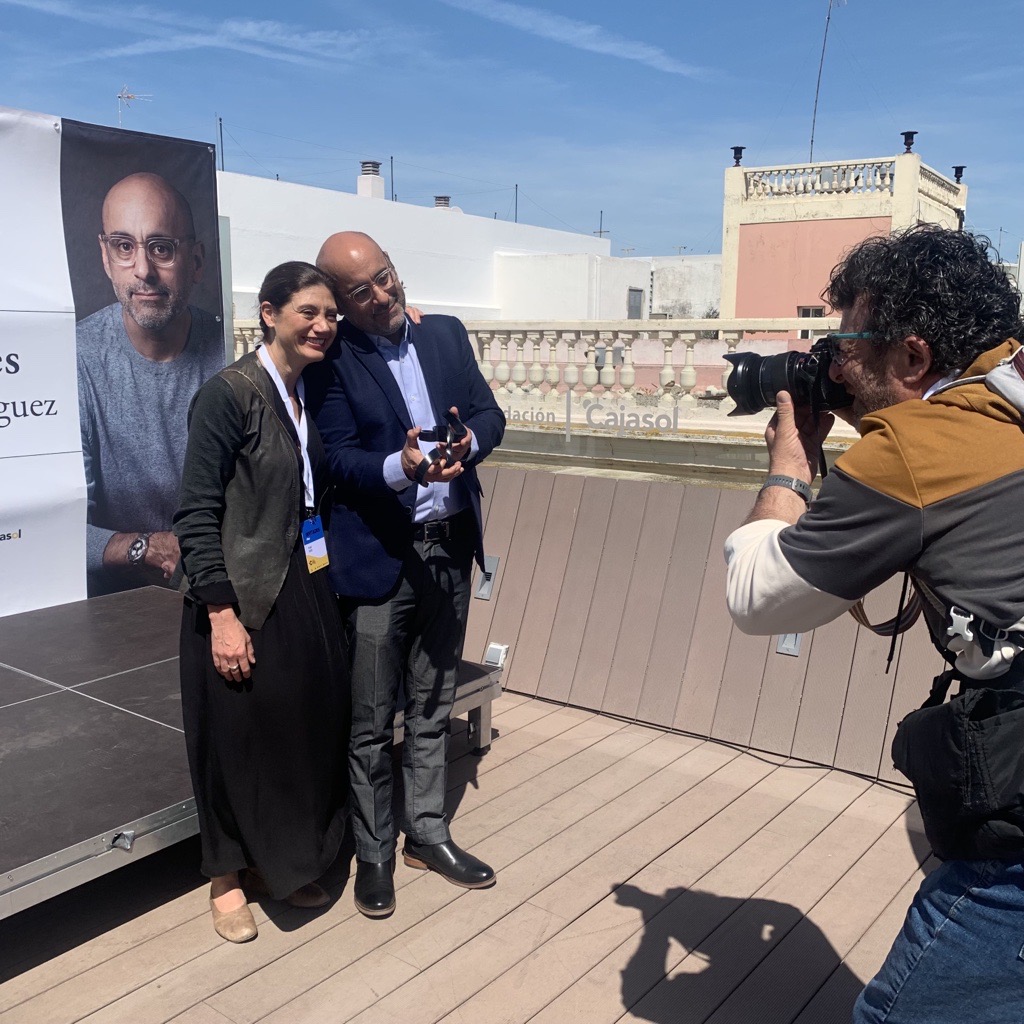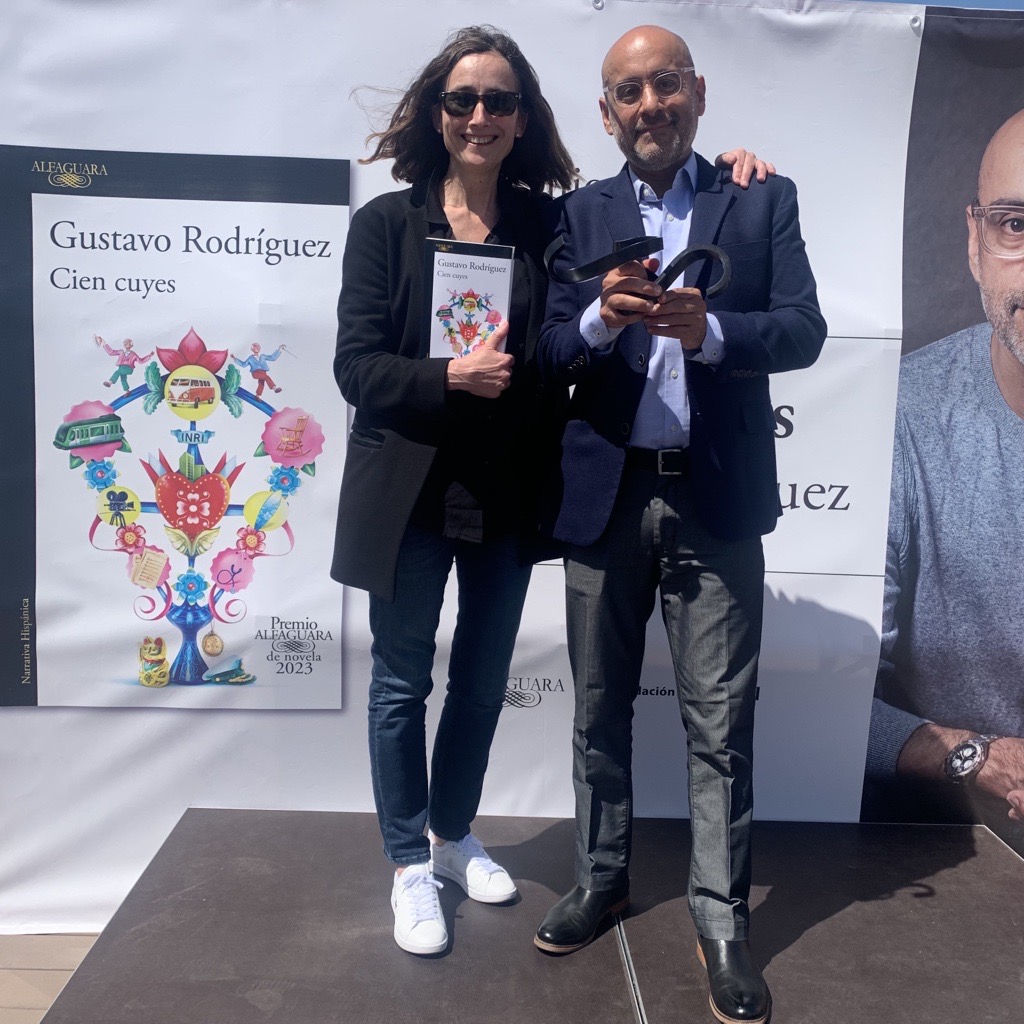 On March 28th, Gustavo Rodríguez accepted the Alfaguara Prize in person on a sunny terrace in the town of Cádiz, where the International Spanish Language Conference was taking place. The conference should have taken place in the Peruvian city of Arequipa, but was relocated due to Peru's current political and social situation. The editorial director of Alfaguara, Pilar Reyes, presented the winner at the casual and friendly ceremony. In the pictures above, Gustavo Rodríguez is pictured with Pilar Reyes (left) and with founder and director of the Pontas Agency, Anna Soler-Pont (right).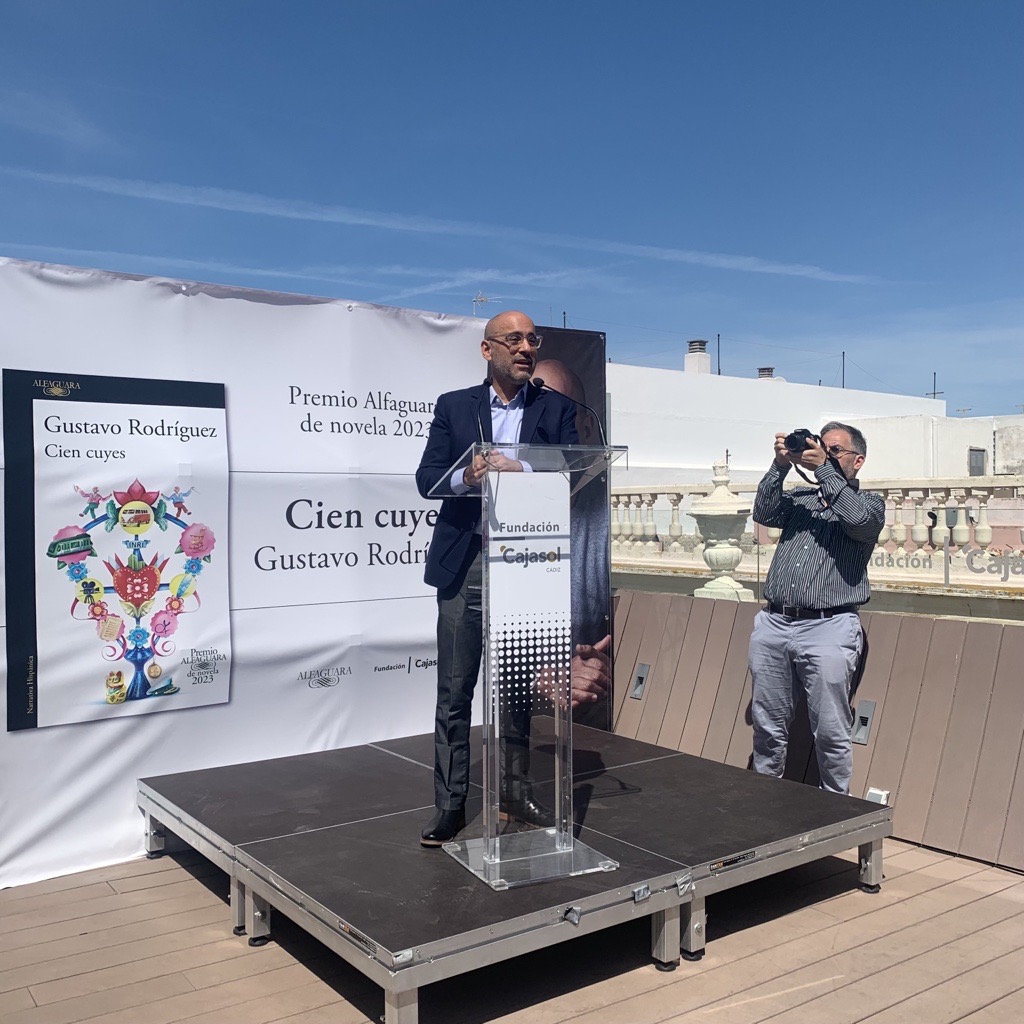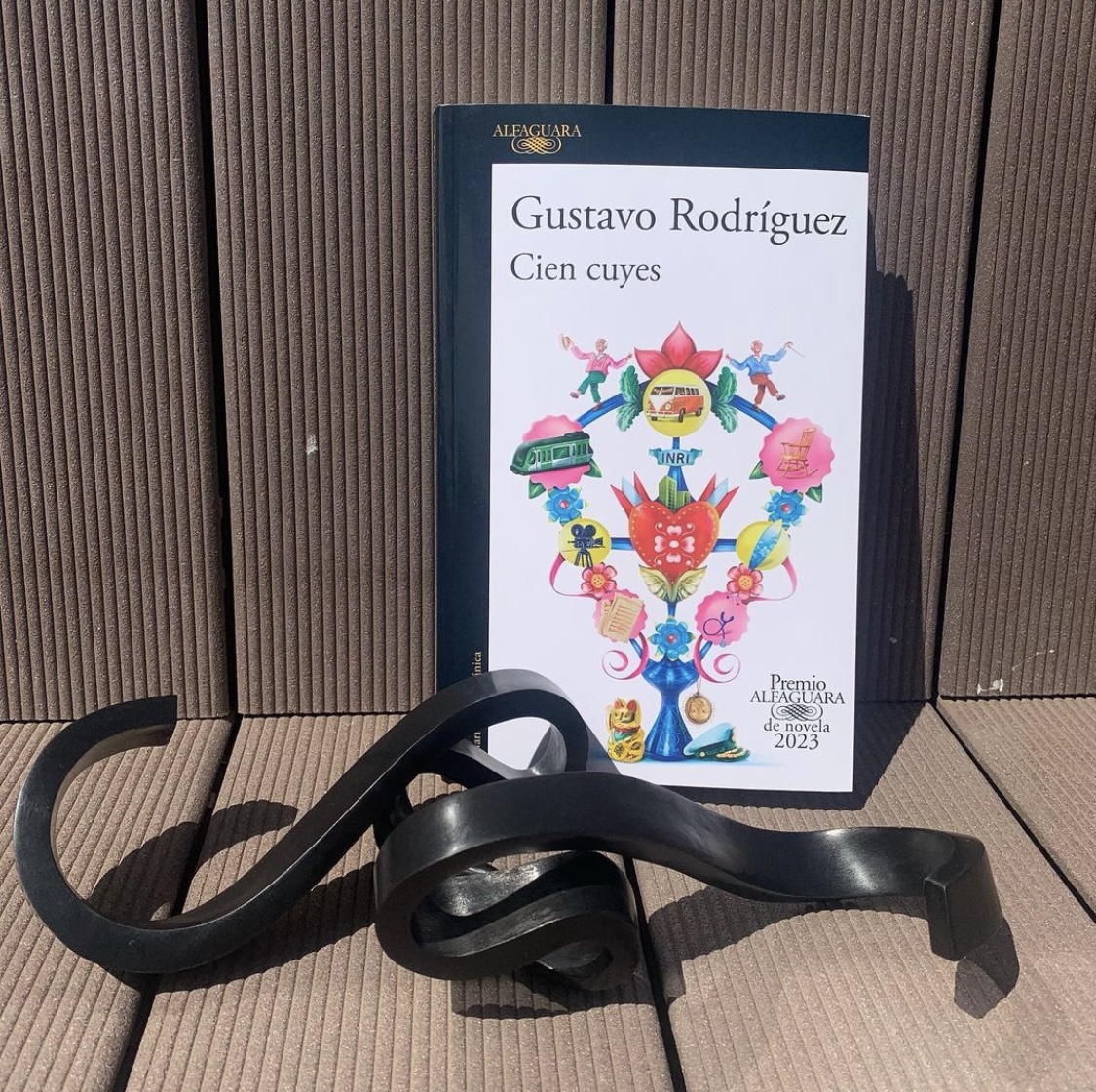 In his acceptance speech, Gustavo Rodríguez explained that his novel is about "elderly people's loneliness, and the right that we all have to a dignified death, but it is written with tenderness and a sense of humor, since what I just said might sound somber. That's why I was delighted when I read that the jury of the prize described One Hundred Guinea Pigs as a tragicomedy".
The novel is set in contemporary Lima, in a residential neighborhood with views over the Pacific Ocean, where some elderly people from the wealthy class languish. In it, Eufrasia, a woman pressed by economic needs in a country with big class gaps, has become essential company for some of them. If she managed to raise enough money to buy enough guinea pigs, she could start a new life, as her uncle always told her. So, every day, she travels across the city in public transportation to assist Doña Carmen, who also needs extra support because she's been feeling down lately and has lost almost all touch with her daughter. Eufrasia is good with emotional support, so good in fact that she starts to work for another neighbor in the same building: Jack Morrison, a retired, widowed, and deeply lonely doctor who enjoys jazz and whiskey. She will also begin working at the neighborhood's nursing home, where a group of elders have built a family and call themselves "The Magnificent Seven."
Despite Eufrasia's care, the lives of these characters are drowned in medication, bland meals at regular hours, TV movies, ailments, and the occasional talk, and the end of their lives is ever-present. Eufrasia is aware of all this, and she also knows that her close relationship and the trust she has managed to establish with all of them will end up bringing her to a crossroads.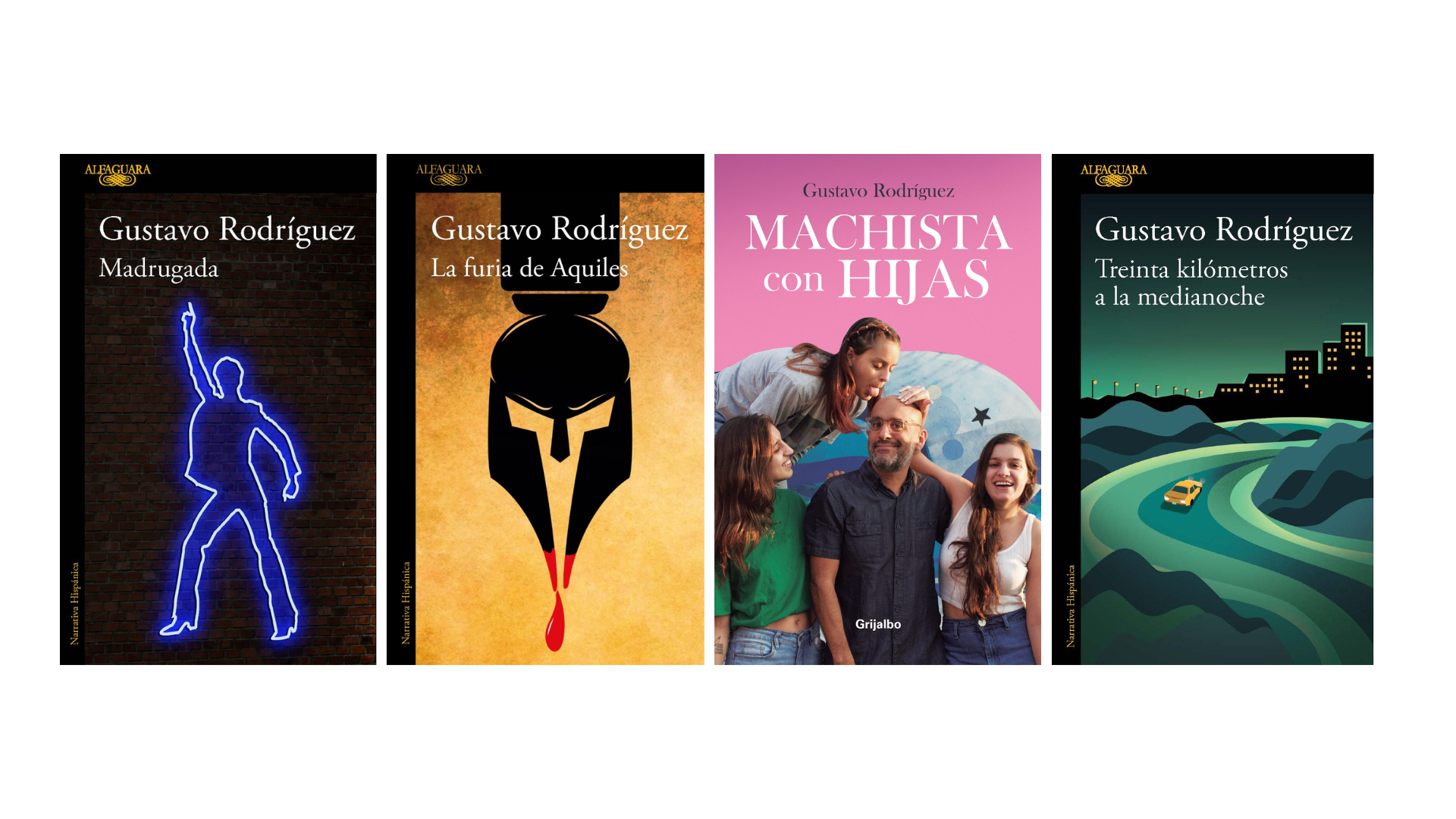 Gustavo Rodríguez's previous novels include Madrugada (Dawn), La furia de Aquiles (The Fury of Achilles), the podcast-turned-book Machista con hijas (Macho Man with Daughters), and the most recent Treinta kilómetros a la medianoche (Thirty Kilometers at Midnight).
---
**Header image © Antonio Vázquez
For more information about this title and the author, please contact Anna Soler-Pont (anna@pontas-agency.com).