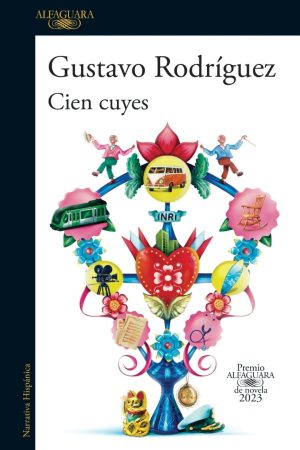 One Hundred Guinea Pigs
Winner of the Premio Alfaguara 2023 (Alfaguara Novel Prize)
A tragicomic novel set in contemporary Lima, in a residential neighborhood with views over the Pacific Ocean, where some elderly people from the wealthy class languish.
Eufrasia, a woman pressed by economic needs in a country with big class gaps, has become essential company for some of them. If she managed to raise enough money to buy enough guinea pigs, she could start a new life, as her uncle always told her. So, every day, she travels across the city in public transportation to assist Doña Carmen, who also needs extra support because she's been feeling down lately and has lost almost all touch with her daughter. Eufrasia is good with emotional support, so good in fact that she starts to work for another neighbor in the same building: Jack Harrison, a retired, widowed, and deeply lonely doctor who enjoys jazz and whiskey. She will also begin working at the neighborhood's nursing home, where a group of elders have built a family and call themselves "The Magnificent Seven."
Despite Eufrasia's care, the lives of these characters are drowned in medication, bland meals at regular hours, TV movies, ailments, and the occasional talk, and the end of their lives is ever-present. Eufrasia is aware of all this, and she also knows that her close relationship and the trust she has managed to establish with all of them will end up bringing her to a crossroads.
Request more information
Original Language
SPANISH (World) | Alfaguara
Translation Rights
ARABIC | Dar Kalemat
ENGLISH (World) | Charco Press
FRENCH | Éditions de l'Observatoire
ITALIAN | Bompiani
Prizes
Winner of the Premio Alfaguara 2023
Reviews
"A tragicomic story, moving, crafted with skill and humor." Claudia Piñeiro, author of Elena Knows
"A story about the culture of caregiving, senectitude, the body, ageism, and death." Luis Alemany, El Mundo
"A universal plot, marked by the author's trademark dark humor." C. García, La Razón
"Gustavo Rodríguez once again alternates between the good and the bad in life to reveal a horrible indecency. (…) Racism, economic inequality, and the contradictions of Peruvian society are elements that Cien cuyes inherits from the impressive Madrugada. That novel was like light, so one can again expect such luminous writing." Juan Cruz, El Períodico de España
"★★★★★" Diego Gándara, La Razón 
Other Books