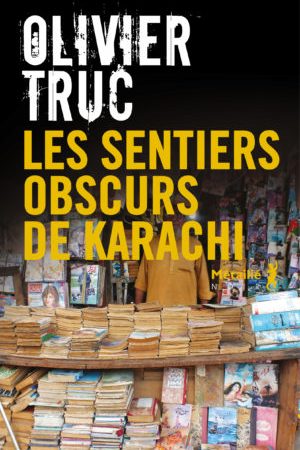 The Dark Paths of Karachi
It's Spring 2022. In a few weeks, Cherbourg (France) will commemorate the 20th anniversary of the Karachi (Pakistan) attacks which killed 14 people on May 8, 2002, including 11 French technicians who were there to build submarines for the Pakistan Navy.
Jef Kerral, a young French journalist who works at a small local newspaper but dreams of big stories, is friends with one of the survivors, Marc Dacian. Dacian, injured during the attack, has never accepted that the truth about the attack has never surfaced, and only one former officer of the Pakistani Navy, Shaheen Ghazali, seems to be concerned about it.
As the ceremony approaches, Marc Dacian worries about Ghazali's silence.
Kerral, who harbors a deep admiration for Marc Dacian, goes to Karachi to try to chronicle the mysterious friendship that binds Dacian to this former Pakistani officer. He gets help from Lieutenant Sara Zafar, a young, beautiful and witty Pakistani Navy officer, close to Shaheen Ghazali, who has conducted her own investigation into the role of the Pakistani secret services in the attack but who goes unnoticed.
The Pakistani secret services, through Pervez Mansur, aka "The Man with Raven Eyes", are always present to monitor everything related to this twenty-year-old attack. What secrets are they protecting? And what secrets will Jef Kerral and Sara Zafar uncover? Not only about the attack, but also about Shaheen Ghazali…
Request more information
Covers
Original Language
FRENCH | Editions Métailié
Prizes
Finalist to the Prix du meilleur polar 2024 (Points)
Finalist to the Prix Joseph Kessel 2023
Reviews
"The ultimate immersion thriller." Lire Magazine 
"You can tell that Olivier Truc has spent time in Karachi… We inhale the smell of spices mixed with decomposition and open sewers, we travel with him in a rickshaw through the dense and noisy crowds amid the honking of Chinese motorbike horns, and we hear the point of view of the Pakistani people, who do not understand – or understand only too well – why this particular attack still garners so much attention when in 2001 and 2002 the country suffered around sixty attacks each year. A masterful, instructive and absorbing read." Libération
"A gripping political thriller where reality and fiction collide." La Croix
"The plotting is tight, the pace is rapid, the style fluid and the characters life-like… Olivier Truc has succeeded in making the city of Karachi and the chaos of its streets and its labyrinthine bazaar, where a network of poetry sellers manage to save Jef and Sara from the clutches of secret services' henchmen, an incredible character in itself. And he has turned a long-distance friendship between two men who have remained prisoners of a past which both eats away at them and binds them together into a particularly moving fictional tale. The novelist thus ventures where the journalist cannot tread… fills in the blanks, feeds the silences, personifies the suffering and gives a voice to the victims. In a word: fascinating." Télérama
"When it comes to twists, Olivier Truc excels." Livres Hebdo
"The Dark Paths of Karachi is a crime thriller set in Karachi around the investigation into the bomb blast that killed 11 French engineers. Told from the perspective of the victim's son, with much regard and empathy for Pakistan. Superb!" Bina Shah, New York Times and Guardian columnist and author of The Season for Martyrs
Other Books