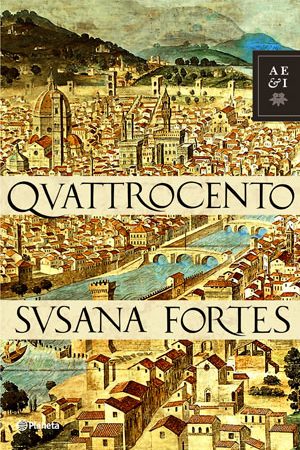 Quattrocento
A fascinating novel that recreates a crime that history has taken five hundred years to solve. In Botticelli and Leonardo's Florence of the 15th century, the Pazzis prepare one of the greatest betrayals of History: the April Conspiracy against the Medicis power. Only with the assassination of Lorenzo the Magnificent could the economy of Christendom be dominated. In the Florence of the 21st century, a student prepares her thesis about a painter with a dubious past. Before finding herself involved in a police investigation and being chased by the Vatican's hit men she discovers, through a mysterious painting, who was the real instigator of the conspiracy perpetrated under the biggest sacred dome of the whole of Christianity.
Although the assassination of Lorenzo de Medici has been portrayed before in literature, few authors can match Susana Fortes' mastering of storytelling and richness in style, which makes Quattrocento a unique reading experience, full of pleasure and enjoyment. With the atractive backdrop of Florence in the 15th century, it is Susana's most ambitious literary project to date. It is a feast for art lovers, fans of historical conspiracies and intregue-fuelled plots, but most of all, it is a feast for readers who enjoy good literature.
Request more information
Original Language
Translation Rights
BRAZIL | Record
BULGARIA | Ciela Soft Publishing
FRANCE | Héloïse d'Ormesson
GERMANY | Blanvalet/Random House
GREECE | Livanis
ISRAEL | Kinneret Zmora / Bitan
ITALY | Nord Editrice /Maurispagnol
KOREA | DDStone
POLAND | Muza
PORTUGAL | Ediçoes ASA
ROMANIA | Humanitas
RUSSIA | Eksmo
SERBIA | Dereta
Reviews
Susana Fortes is one of Spain's most established literary female authors, her novels have been praised for her highly elaborate style and narrative efficiency, their sensuality and musical rhythm.
Other Books