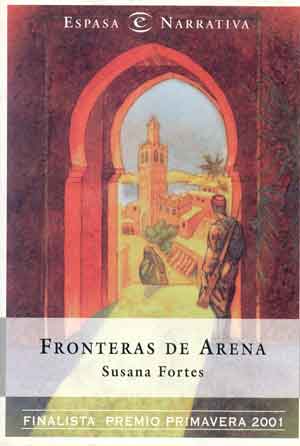 Borders of Sand
Tanger, 1935: the city is a den of spies and traffickers. Three people begin a triangular love relationship both dramatic and intriguing. The protagonists are Philip Kerrigan, a correspondent for 'The London Times' in North Africa; his friend Alonso Garcés, a cartographer and captain in the Spanish Army who has to lead an expedition into the very heart of the Sahara Desert; and Elsa Quintana, a woman trying to escape from her past who waits patiently for her husband who never appears. At the time in which the story is set (immediately before the outbreak of the Spanish Civil War), Tangiers was a paradise for outcasts. Soldiers from different countries, bandits, castaways of civilisation, journalists, politicians, spies and the native population are mixed together in the streets, hotels and cafés of the town and, therefore, have a special perception of the historical facts that were to be a turning point in the history of the twentieth century.
The lively representation of Tangiers in the novel gives it such a dimension that Tangiers itself becomes one of the main characters. As for the love story in which the three main characters see themselves involved, this is a story of learning and forgetting the art of love, and all the pains and suffering it brings to the lovers. Alonso Garcés, an embodiment of the youthful passion and feeling, is immediately attracted by Elsa's shy and mysterious attitude. Elsa is escaping from a rude and violent past and writes in her diary "It is hard to keep one's own private space free from questions, even here, in a town in which nobody is innocent". Day after day she longs for the arrival of her husband's boat from Spain, and, at the same time, she feels that perhaps it is better to keep waiting. This novel is a historical thriller and a detective story reflecting lyrically on eternal human passions: love, jealousy, treason and fear of death.
Request more information
Original Language
SPANISH | Espasa Calpe / Grupo Planeta
SPANISH (Audio) | Audible
Translation Rights
GREECE | Kedros
RUSSIA | Machaon
Reviews
A classical story between Casablanca and The English Patient.
Tangiers, one of the most cosmopolitan city of Northern Africa in the 1930s.
Historical setting: 1935, the intrigues to attempt against the Spanish Republic began in Tangiers. The Army finally helped Franco and a cruel civil war started.
Other Books