It is our pleasure to announce that acclaimed Spanish actress Elvira Mínguez has joined the Pontas Agency as an author with her debut novel  La sombra de la tierra (Earth's Shadow). Espasa Calpe/Planeta has already acquired Spanish world rights and it  will be published in early 2023. All audiovisual and translation rights are currently available.
Elvira Mínguez is widely renowned and awarded for her work as an actress in the film industry. She has been directed by John Malkovich, Steven Soderbergh and Asghar Farhadi, among others.  And we´re keen to stress that she is also known for her role as Flora in the three films adapting Dolores Redondo's successful Baztan Trilogy, now available worldwide on Netflix as The Invisible Guardian, Legacy of the Bones and Offer to the Storm.

Earth's Shadow is set in 1896, in Villaveza del Agua, a small village located in the province of Zamora, in Spain's South West. Hunger and poverty are the vital circumstances of the inhabitants of this town governed by Garibalda, a widowed and ailing woman who imposes her own rules onto the community.
Atilana aspires to achieve the power that Garibalda holds. They've been competing against each other for years and it is solely hatred itself that has kept them both standing. The victims of this dispute and resentment are the children, who are left to endure both physical and psychological abuse.
The countryside, the farmlands and the mountains confer the landscape in which these characters live, a harsh and bleak framework, a border space to which they remain anchored, a seemingly transitory place from which they cannot escape.
Earth's Shadow tells the story of two women; of the rise to power of one of them and the loss of power of the other; two acts of revenge, one that is visible to the whole community, and another which is woven into the heat of hatred. The novel speaks to a cursed inheritance, the transmission and consequences of abuse, and the reverberation of acts committed and suffered in the past through generations to come.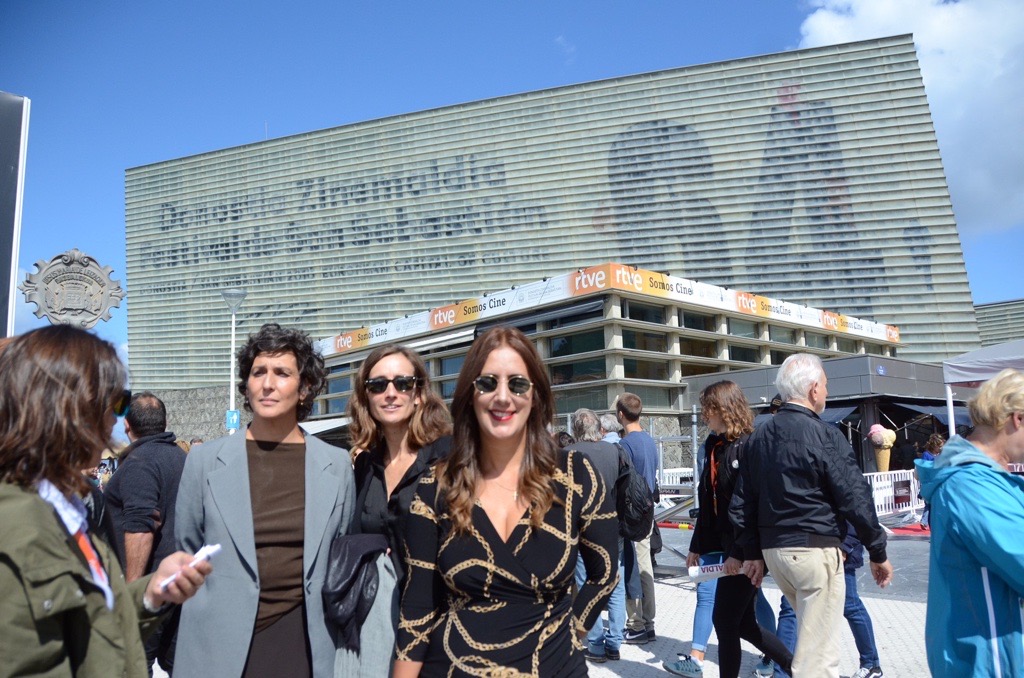 It's fun to share the photo above, now part of the "special Pontas history album": from left to right, author Elvira Mínguez, Anna Soler-Pont, and fellow Pontas author Dolores Redondo, at the 2016 San Sebastián International Film Festival, after attending a press conference for the release of the film adaptation of The Invisible Guardian.
Elvira Mínguez has already written a feature film screenplay adapting her own novel and it's available for interested producers. The film could become a mix of The Power of the Dog by Jane Campion (adapting Thomas Savage's novel) meets Los santos inocentes by Mario Camus (adapting  Miguel Delibes' novel) meets Elisa y Marcela by Isabel Coixet.
---
For more information, please contact Anna Soler-Pont (anna@pontas-agency.com)