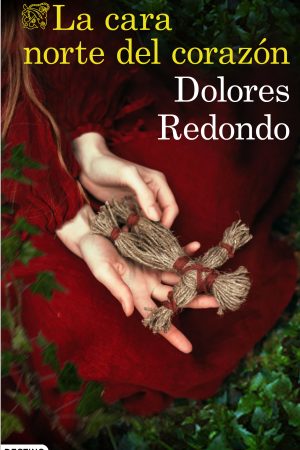 The North Face of the Heart
«When Amaia Salazar was twelve years old, she was lost in the forest for sixteen hours. It was early morning when they found her, thirty kilometers north of the place where she had lost her way. She had vanished under the heavy rain, her blackened and scorched clothing, like that of a medieval witch rescued from a bonfire and, in contrast, her white skin, clean and cold as if she had just emerged from the ice.»
In August 2005, long before the crimes that shook the Baztan valley occurred, a young twenty-five-year-old Amaia Salazar, detective inspector of the Foral Police in Navarra, participates in an exchange programme for Europol police officers at the FBI Academy in the United States, taught by Aloisius Dupree, the head of the research unit. One of the tests consists of studying the real-life case of a serial killer, whom they call "the composer", who always strikes during great natural disasters attacking entire families and leaving an almost liturgical scene behind. Amaia will unexpectedly become part of the research team, which will take them to New Orleans, on the eve of the worst hurricane in their history, to try to get ahead of the killer...
But a call from her aunt Engrasi in Elizondo will awaken in Amaia old ghosts from her childhood that can change everything, exposing herself, once again, to the north face of the heart.
Request more information
Covers
Original Language
SPANISH (World) | Destino / Planeta
Translation Rights
BASQUE | Erein
CATALAN | Columna
DANISH | DreamLitt
ENGLISH (World) | Amazon Crossing
FINNISH | Gummerus
FRENCH | Série Noire Gallimard / Folio
GALICIAN | Xerais
GERMAN | btb verlag / Random House
ITALIAN | Rizzoli
MACEDONIAN | Antolog Books
POLISH | Kobiece
PORTUGUESE (Brazil) | Planeta
PORTUGUESE (Portugal) | Planeta
ROMANIAN | Grup Media Litera
UKRAINIAN | Family Leisure Club
Reviews
"In 2005, 25-year-old Spanish assistant inspector Amaia Salazar, the protagonist of this gripping prequel to Redondo's Baztán trilogy…this crime thriller is a good starting place for readers new to Redondo." Publishers Weekly
Included in The Nerd Daily's "most anticipated thrillers" roundup.
"The mysteries are dark and twisty, and the moments of danger are plentiful. Amaia's experience with trauma gives her insight into people's thinking; she uses this knowledge to hunt down new demons. Fans of noir fiction will devour this book." –Library Journal, Starred Review
"The North Face of the Heart is a novel that will undoubtedly captivate the lovers of the series, but that will surely also please those who have not yet ventured to dare read it, because it also has the immense advantage of being able to read it without having read the Baztan Trilogy. It is a fantastic way to start with the character of Amaia Salazar, because it will not reveal the important plot details of the trilogy. That is why, when I doubted between giving Redondo a score of nine or ten, I have leaned towards the highest grade, because it is undoubtedly the best novel about the Baztan universe written by the author." El búho entre libros
"With the Baztan Trilogy, Dolores Redondo set the bar very high, with this novel she has even gone further. (…) You cannot put it down and the ending is perfect." Qué libro leo
"There are many readers already saying this is Redondo's Best novel to date. Personally, I think it's the most balanced and mature, one that closes threads that were tightened in previous books but we wanted to know more about, especially about Amaia Salazar." La opinión de Málaga
"To read this novel is pure joy." A golpe de letra
Other Books