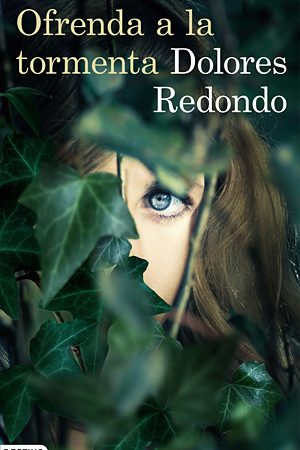 Offering to the Storm
In Pamplona, capital of Navarra, Amaia Salazar is called in to investigate the death of a still-born baby girl and the arrest of the child's father. According to the grandmother of the family, the father tried to run away with the body of the baby while uttering some strange sayings about an offering. The baby has some red marks on her face that indicate that she has been murdered. The grandmother also talks about a magical creature: an nightmarish evil being that immobilizes people and prevents them from waking up after their sleep. It is the Inguma, the one who takes your life away while you are asleep.
The investigation of this case will take Amaia and her team to discover some procedural irregularities in similar cases that occurred in the nearby valley of Batzán many years ago and that reveal an unusually high number of cases for such a small area. Meanwhile, the murderer Berasategui, who is transferred to another prison by judge Marquina, is found dead in his cell due to a drug-induced coma, dome with somebody else's help.
Offering to the Storm is a gripping and hair-rising thriller in which the plot accelerates towards a surprising ending in which Amaia must face the true origin of the events that have ravaged the Baztan valley for years. Even if an impressive snowstorm tries to bury the most devastating truth.
Request more information
Covers
Original Language
SPANISH | Destino / Grupo Planeta
SPANISH (Graphic Novel) | Planeta DeAgostini
Translation Rights
BASQUE | Erein
BULGARIAN | Colibri
CATALAN | Columna Edicions
CHINESE (Simplified) | Zito **rights available again
CROATIAN | Profil **rights available again
CZECH | Panteon **rights available again
DANISH | Politikens Forlag
DUTCH | Xander
ENGLISH (World) | Harper Collins UK
FRENCH | Gallimard/Mercure Noir
FINNISH | Gummerus
GALICIAN | Xerais **rights available again
GERMAN | Bastei Lübbe
HUNGARIAN | Libri Kiadó **rights available again
ITALIAN | Salani
JAPANESE | Hayakawa **rights available again
MACEDONIAN | Antolog Books
NORWEGIAN | Cappelen Damm
POLISH | Czarna Owca
PORTUGUESE (Brazil) | Planeta Brazil
PORTUGUESE (Portugal) | Planeta Portugal
RUSSIAN | Arkadia/Labirint
SWEDISH | Bucket List Books **rights available again
TURKISH | Koridor
VIETNAMESE | Women's Publishing House
Film Rights
Reviews
«Utterly compelling» Publishing Perspectives
«A novel about the fear of returning to fear.» La Vanguardia
«It reminds us of Johan Theorin and Maurizio de Giovanni, of the short stories by Tana French or of Val McDermid. Like all of them, The Invisible Guardian is a more sophisticated kind of book, more elaborated than the conventional crime novel.» El Periódico
«I was very surprized by it, I really loved it. I strongly recommend it.» María Dueñas, author of The Time in Between
«It's the basajaun, the other main character, the mysterious element and the original 'soul' of the book : man vs the bestiality of crime, ancestral legends vs modern investigation techniques, family traumas vs dark beliefs.» L'Express
«Dolores Redondo has broken the traditional mould of the publishing industry.» ABC
«A landscape thriller. And what a landscape it is!» Page des Libraires
Other Books