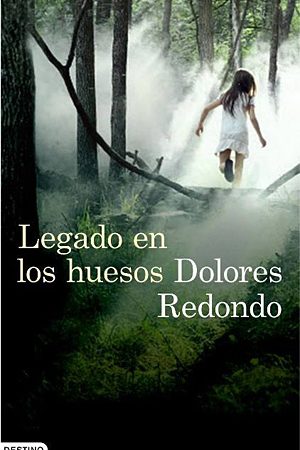 The Legacy of the Bones
The second book in Dolores Redondo's atmospheric Baztan trilogy, featuring Inspector Amaia Salazar. With masterful storytelling and a detective to rival Sarah Lund, this Spanish bestselling series has taken Europe by storm.
One year after solving a series of murders in the Baztan valley, Detective Inspector Amaia Salazar attends the trial against Johana Marquez's stepfather, Jason Medina, who raped, maimed and murdered his stepdaughter.
Suddenly the judge announces that the trial should be cancelled: the defendant has just committed suicide in the bathroom of the courthouse. He has left a suicide note addressed to Amaia, containing just a mysterious and disturbing word: 'Tarttalo'.
What is the message Jason was trying to send? To unravel the truth, Amaia must return once again to the Baztan valley where her investigation takes a sinister turn.
Request more information
Covers
Original Language
SPANISH | Destino / Grupo Planeta
SPANISH (Graphic Novel) | Planeta DeAgostini
Translation Rights
BASQUE | Erein
BULGARIAN | Colibri **rights available again
CATALAN | Columna Edicions
CHINESE (Simplified) | Zito **rights available again
CROATIAN | Profil **rights available again
CZECH | Nakladatelství Panteon **rights available again
DANISH | Politikens Forlag
DUTCH | Xander
ENGLISH (World) | Harper Collins UK
FINNISH | Gummerus
FRENCH | Gallimard/Mercure Noir
GALICIAN | Xerais **rights available again
GERMAN | Bastei-Lübbe
HUNGARIAN | Trivium Kiadó **rights available again
ITALIAN | Salani
JAPANESE | Hayakawa **rights available again
MACEDONIAN | Antolog Books
NORWEGIAN | Cappelen Damm
POLISH | Czarna Owca
PORTUGUESE (Brazil) | Planeta Brazil
PORTUGUESE (Portugal) | Planeta Portugal
RUSSIAN | Arkadia/Labirint
SWEDISH | Bucket List Books **rights available again
TURKISH | Koridor
VIETNAMESE | Women's Publishing House
Film Rights
Prizes
Shortlisted to the CWA International Dagger 2017
Reviews
«Utterly compelling» Publishing Perspectives
«A novel about the fear of returning to fear.» La Vanguardia
«It reminds us of Johan Theorin and Maurizio de Giovanni, of the short stories by Tana French or of Val McDermid. Like all of them, The Invisible Guardian is a more sophisticated kind of book, more elaborated than the conventional crime novel.» El Periódico
«I was very surprized by it, I really loved it. I strongly recommend it.» María Dueñas, author of The Time in Between
«It's the basajaun, the other main character, the mysterious element and the original 'soul' of the book : man vs the bestiality of crime, ancestral legends vs modern investigation techniques, family traumas vs dark beliefs.» L'Express
«Dolores Redondo has broken the traditional mould of the publishing industry.» ABC
«A landscape thriller. And what a landscape it is!» Page des Libraires
Other Books