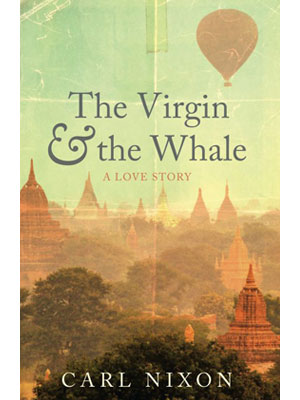 The Virgin and the Whale
It is 1919. Elizabeth Whitman is working as a nurse in the local hospital, waiting for her husband to return from war, though he is missing in action, 'presumed dead'. She keeps him alive for their four-year-old son, Jack, by telling the story of a man she calls The Balloonist, who went away in a hot-air balloon and has adventures in exotic countries.
When she is asked to nurse a returned soldier whose head injury has reduced him to an animal-like state with no memory, Elizabeth starts telling him stories. It is through them that she manages to engage his interest and offer him a new life… in more ways than one.
A touching, clever novel about stories, about using them to create your own identity, and about the way they can forge bonds of love.
Request more information
Covers
Original Language
ENGLISH (ANZ) | Penguin Random House
ENGLISH (Audio) | Tantor Media
Translation Rights
Film Rights
Film rights to South Pacific Pictures
Prizes
Named in The Listener Top 100 Books, 2013
Named in the Christchurch Press Top 5 New Zealand Fiction, 2013
Named in the Dominion Post Top 5 New Zealand Fiction, 2013
Reviews
«This novel is wonderfully accomplished, beautifully told and a delight to engage with.»  NZ Listener
«If I read a better novel this year, I will eat my socks. Although I am fairly certain it won't come to that. It would be hard to top this marvellous tale... This is an extraordinary story . . . woven exquisitely together by Nixon. Elegantly crafted, gripping and heart-warming.» New Zealand Motorhomes Caravans & Destinations
«This story is about battles of wills and ideologies as well as the healing power of love. Yet Nixon's novel is also, and equally, about the healing properties of storytelling itself... Above all, those who can listen to a story and hear the surface and subtexts are upheld over those whose minds are not open to the riches and alternative ways of thinking that stories can bring. Nixon brings home to us why literature is highly placed among the humanities.» Otago Daily Times
«It is a story which is powerful, yet gentle. It is evocative and poignant. But most of all it is beautifully written and clever and kept me hooked to the last.» Timaru Herald
«Places him firmly as one of our leading writers …. Complex narrative, beautiful prose and compelling characters make this book absolutely sing." Radio New Zealand
«(The book) offers us fragmentary insights into the way our national memory constructs our national identity. With all that self-consciousness going on, The Virgin and the Whale is an ambitious project. But Nixon is no mere fashion victim. This is and intelligently constructed novel and, best of all, a beautifully told story.» Weekend Herald
«All lovers of Christchurch should read this book. It is as gripping and well written as Carl Nixon's first two novels.» The Christchurch Press
Other Books