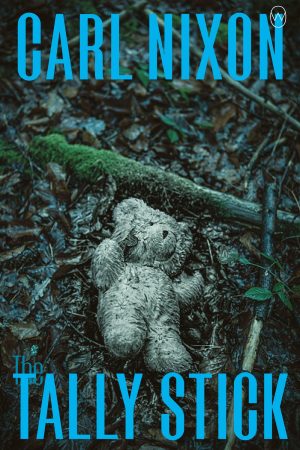 The Tally Stick
A compulsive and chilling novel about subjugation, survival and the meaning of family.
The car containing the four sleeping children left the earth. From the top of the wooded bluff, where the rain-slicked road had curved so treacherously, down to the swollen river at the base of the cliff was easily sixty feet. There was no moon that night only low, leaden cloud clogging the sky. The car, as if suspended, hung in the air. For a fraction — of a fraction — of a moment . . .
John Chamberlain has brought his family to New Zealand from the UK. Before he starts his new job, he takes them on a driving holiday. The car skids over the road and hurtles off a cliff. The year is 1978.
In 2010 the remains of John's older son have been discovered in a remote part of the West Coast, showing he lived for four years after the family disappeared. Found alongside him are his father's watch and what turns out to be a tally stick, a piece of wood scored across, marking items of debt.
How had he survived and then died? Where was the rest of his family? And what did the tally stick signify?
Request more information
Covers
Original Language
ENGLISH (ANZ) | Penguin Random House NZ
ENGLISH (World excl. ANZ) | World Editions
Translation Rights
ARABIC | Al-Turjman Publishing
FRENCH | Éditions de l'Aube
GERMAN | CulturBooks Verlag
RUSSIAN | Ripol
Film Rights
Audiovisual rights sold to Blondini Brothers Ltd.
Prizes
Winner of the 2023 Media Landes Prix Polar for best Adult Thriller
Finalist for the 2021 Ngaio Marsh Award for Best Novel
Reviews
"Nixon's prose is arresting, beginning with a description of the crash which generates consistent appeal for the thrilling and emotionally nuanced story. This is electrifying." Publishers Weekly
"The Tally Stick is made of the stuff of nightmares. It spoke to my deepest fears and is written with such clarity that it made me feel as if the story were really happening." Pilar Quintana, author of The Bitch
"An atmospheric thriller, this is the Kiwi version of outback noir and I couldn't put it down." Alison Flood, The Guardian
"Nixon's evocation of physical landscape and its interior counterpart resonate long in the memory." The Times
"The Tally Stick is a novel of character and edge-of-the-seat suspense, with the landscape and weather of the West Coast of New Zealand given a prominent role." Weekend Herald
"From its first sentences, The Tally Stick by Carl Nixon swept me up and carried me away to a world I never knew and a place I've never been: New Zealand's West Coast, a rough and rugged place where after just five days in the country the Chamberlain family completely disappears. But more than the impeccably described landscape, it's the complicated moral choices the characters must confront that makes this novel so much more than a gripping story of loss and survival. Richly drawn, intensely atmospheric, and absolutely stunning, I loved this book!" Karen Dionne, author of the #1 international bestsellers The Marsh King's Daughter and The Wicked Sister
"There's a steady relentlessness to the action in the bent fairy tale of Carl Nixon's fourth novel … Nixon sketches in aspects of his characters' lives deftly." Newsroom
"I like that the novel tests this Eurocentric notion of "the wild", and that it clearly looks to other dominant forms of narrative, not least the ambivalence of New Zealand Gothic. But it challenges our expectations of genre, and in doing so engages with thorny questions about the nature of our relationships with one another." The Spin Off review
"The Tally Stick​ is an efficient, gripping story, a Kiwi Gothic thriller that is confidently and economically told. It is probably his strongest novel." Philip Matthews, Academy of New Zeland Literature THE FRIDAY REVIEW
Louise O'Brien review for RNZ
Other Books