We are delighted to announce that US-based Zambian author Mubanga Kalimamukwento has joined the Pontas Agency with her debut novel The Mourning Bird, which won the Dinaane Debut Fiction Award and was listed among the 15 most notable debut books of 2019 by Brittle Paper. The novel was published in South Africa by Jacana Media and now English rights outside the Southern African countries are available, as well as translation rights and audiovisual rights. We are also currently working on the edits of Mubanga's second novel, The Preacher's Daughter.
Set against the backdrop of a failed military coup, election riots and a declining economy, The Mourning Bird is both an unflinchingly intimate family story and a national portrait of Zambia during a period when a country famed for its kindness seemingly turned its back on generations of its children. Brittle Paper called it "an empowering portrait of modern Zambia" and the Sunday Times called it "bold, tender and razor-sharp." The judges of the Dinaane Debut Fiction Award highlighted "how self-assured the writing is, by the fact that the writer never feels the need to strain for effect or over-explicate the issues involved. The depiction is both unflinching and subtle."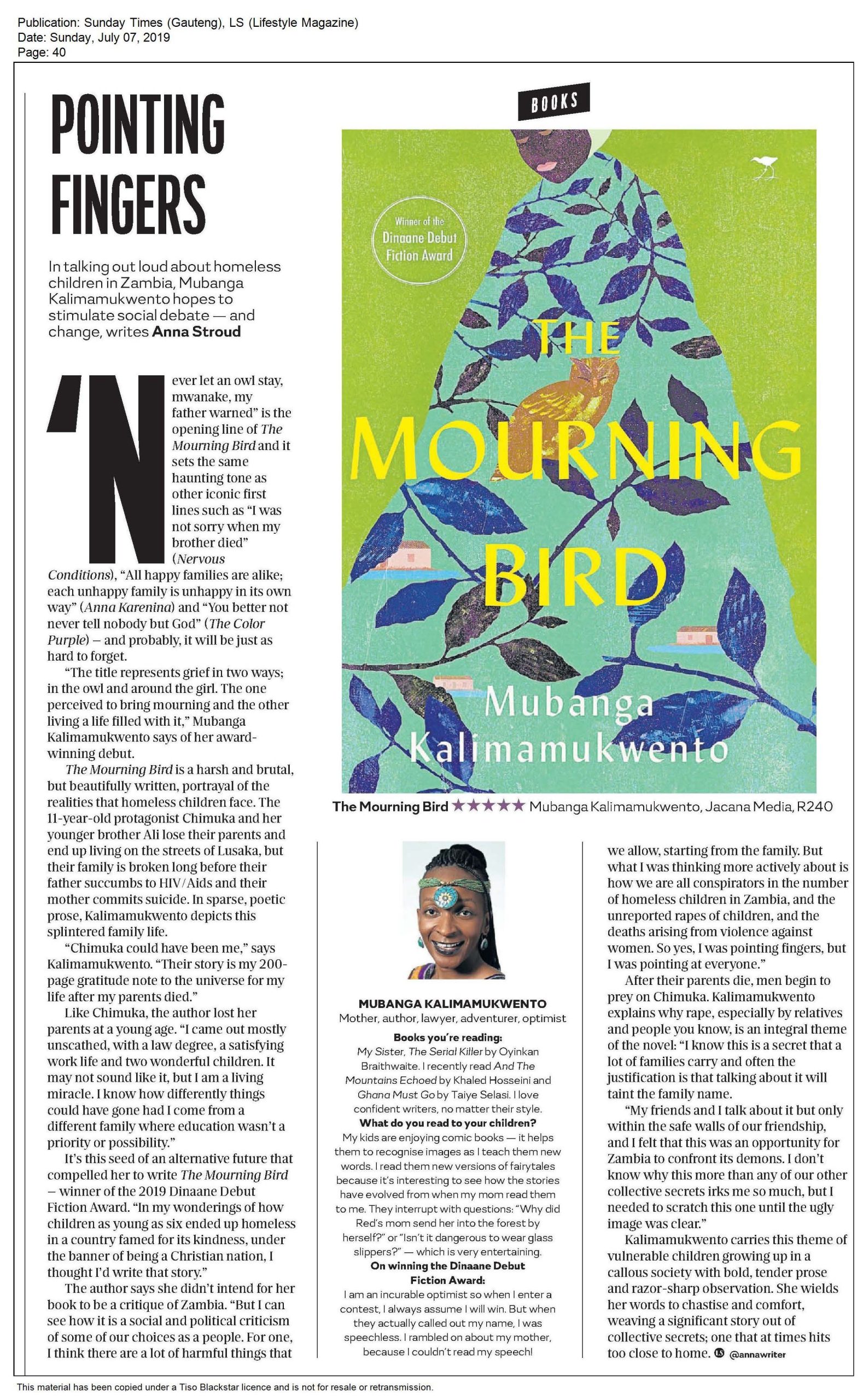 The novel follows 11-year-old Chimuka who, when she's not at school, spends her time in a dance with her mother trying to avoid helping with the household chores. She is aware that by her age she should be able to cook already, but she would much rather play with her younger brother Ali in the backyard or listen to her father Tate, an English teacher, as he unstitches the details of his day and tells her stories.
But when Tate's health deteriorates and he dies unexpectedly, it becomes clear that their seemingly ordinary Zambian family is brimming with secrets. This is the 1990s, and HIV and infidelity are not subjects to be discussed among adults, let alone their children. Shunned by her abusive in-laws, their mother struggles to hold the family together until she makes a tragic decision which forces Chimuka and Ali to seek escape on Lusaka's streets. While Ali sinks into a life of drugs and crime, Chimuka is faced with the scant choices left open to girls in her situation, torn between thieving and selling her body to others to survive.
But a chance encounter with Elisha, who runs a drop-in centre and orphanage, helps her cling to the fragile stability that existed before her family broke apart. By now fiercely independent and resigned to the physical dangers she and other girls face nightly, Chimuka must decide if she will choose another way; an existence in which her country's burden, shame and silence will not prevent her from becoming a teacher like her father and having a future of her own.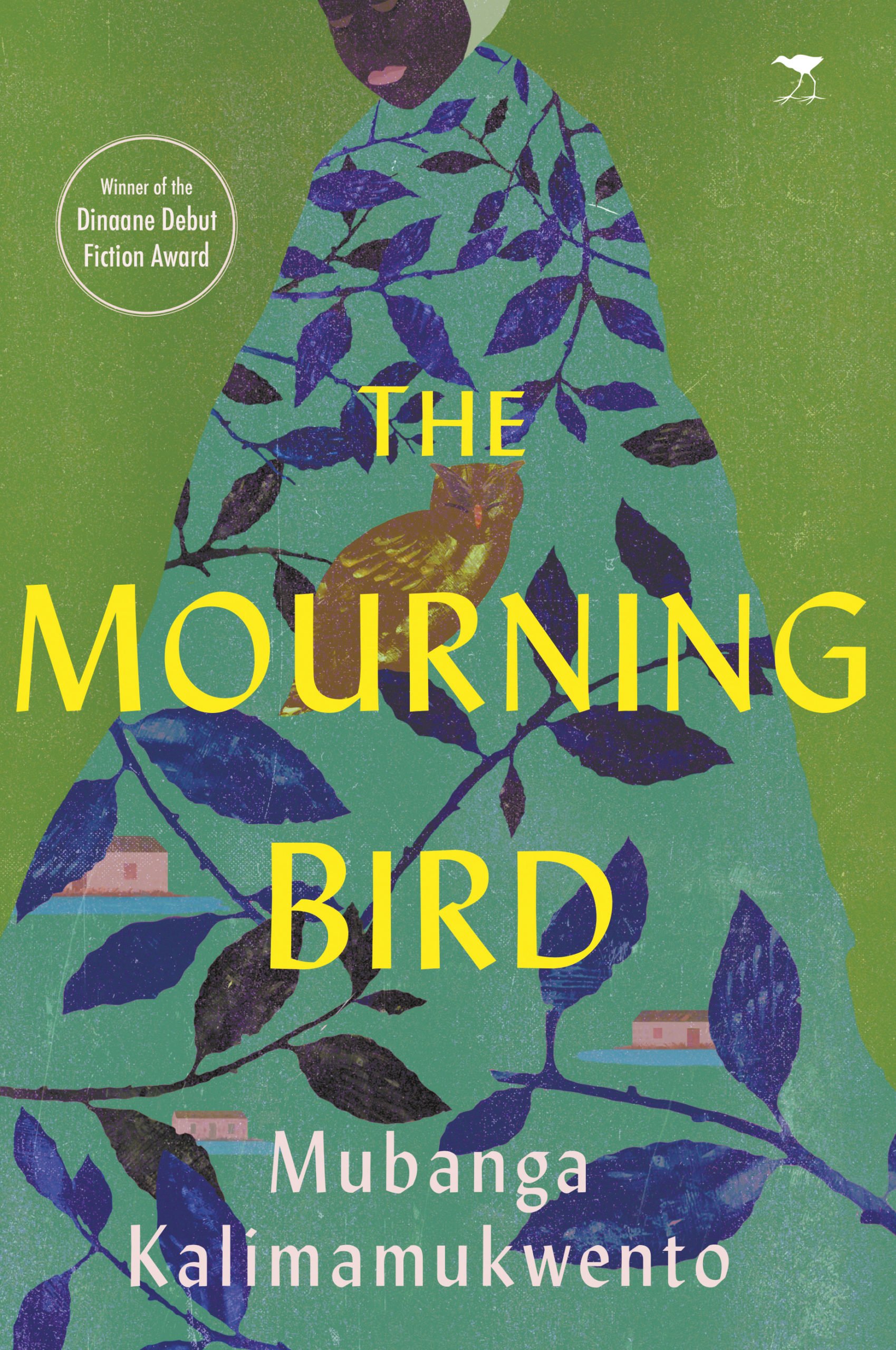 Mubanga Kalimamukwento (1988) is a Zambian storyteller and criminal lawyer with an MFA from Hamline University, where she received the Writer of Color Merit Scholarship and the Deborah Keenan Poetry Scholarship. Her debut novel The Mourning Bird won the Dinaane Debut Fiction Award in 2019 and was listed among the 15 most notable debut books of 2019 by Brittle Paper. Mubanga was also the winner of the Kalemba Short Story Prize in 2019 for her short story "Inswa," and the Tusculum Review Poetry Chapbook Contest in 2022 for her work unmarked graves. Her short fiction and poetry have been shortlisted for numerous awards, including the Center for African American Poetry and Poetics (CAAP) Book Prize, the Raz-Shumaker Book Prize, the Commonwealth Short Story Prize, the Nobrow Short Story Prize, and the Bristol Short Story Prize. Her work has also appeared in adda, Aster(ix), Overland, The Red Rock Review, The Killens Review of Arts and Letters, and on Netflix among others.
When she's not writing, Mubanga serves as fiction editor for Doek! and a Mentor at the Minnesota Prison Writing Workshop. She is the current Shenandoah BIPOC Editorial Fellow, a Tejumola Olaniyan Creative Writer-in-Residence Fellow at the Africa Institute, and a Mercatus Center Don Lavoie Fellow at George Mason University. Mubanga currently lives in Minnesota.
---
For more information about this title, please contact Carla Briner (carla@pontas-agency.com).