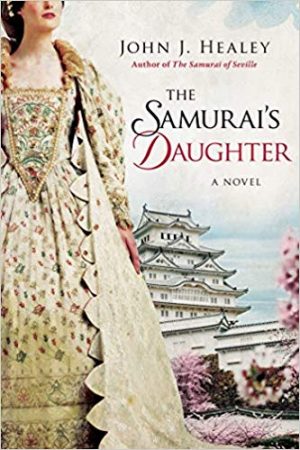 The Samurai's Daughter
A tale of personal discovery, familial obligations, and competing cultural expectations is at the heart of this exciting sequel to The Samurai of Seville.
Soledad Maria, called Masako by her father, is a child of two worlds. Born in Seville in the seventeenth century, she is the daughter of a beloved Spanish lady and a fearsome samurai sent to Spain as part of one of the most intriguing cultural exchanges in history. After her mother's death, Soledad Maria and her father set out to return to Japan, though a journey across the world can never be without peril. As dangers emerge with each sunrise, Soledad cannot help but wonder what life would have been like had they stayed home, in Spain; but voicing her doubt would be to insult her father. As they continue on, Soledad Maria finds herself grappling not only with the physical challenges of their long voyage, but with who she is, which legacy to claim—that of a proper Spanish lady or of a samurai—and which world she can really call home.
The Samurai's Daughter is an essential and timeless story of accepting ourselves and finding our place in the world.
Request more information
Original Language
ENGLISH (North America) | Arcade / Skyhorse
Translation Rights
GERMAN | Heyne / Random House
SPANISH (World) | Editorial Renacimiento
SPANISH (Audio) | Audible
Reviews
«Truly a can't put down read. A great epic journey with characters that enthrall and engage. Its seventeenth-century heroine of derring-do is a revelation.» Michael Peyser, producer of Matilda and The Warrior's Ways
«In one continuous read I found myself swept through time across continents and oceans by the well-drawn central characters' passion, intrigue, greed, treachery and love. I look forward to seeing this wonderful novel unfold on the screen.» Barrie M. Osborne, producer of the Lord of the Rings trilogy
Other Books