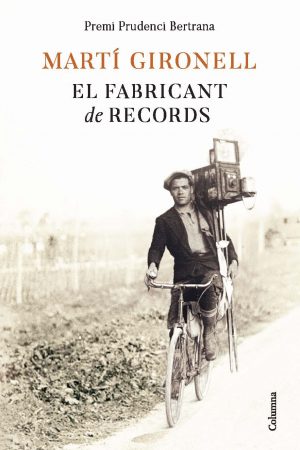 The Maker of Memories
A journey into the heart of photography.
The Maker of Memories is a novel that portrays the time when photographs became a celebrated part of people's lives, because they have the power to capture singular moments and treasure cherished memories.
Doctor Masgrau, director of the Center for Image Research and Dissemination in Girona, receives an unexpected visitor with a box of unpublished and risky photos taken by Valentí Fargnoli. These were great secrets of his.
The Maker of Memories is a fascinating journey through the life of Valentí Fargnoli, a traveling photographer who, in the early 20th century, went all over Catalonia on his bicycle, capturing life from the coast to the mountains, from the smallest villages to the big cities. Fargnoli constructed both a personal and collective memory through his images, a memory of great value that was destined to disappear. His career was so brilliant that the king himself, Alfonso XIII, invited him to shoot his wedding with Victoria Eugenie of Battenberg, an event that changed his life forever.
The Maker of Memories tells a heroic, poetic, and delicate story, built from very sensible material: memories and secrets that will never be forgotten.
Request more information
Covers
Original Language
Translation Rights
Prizes
Winner of the Prudenci Bertrana Award 2022.
Other Books