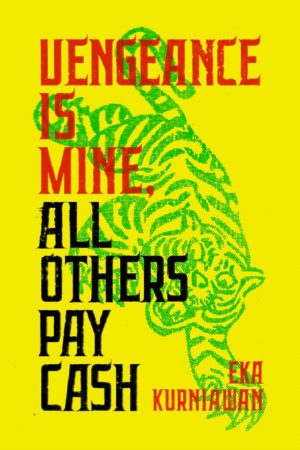 Vengeance Is Mine, All Others Pay Cash
Vivid and bawdy, and told in short, cinematic bursts, Vengeance Is Mine, All Others Pay Cash is gloriously pulpy. Ajo Kawir, a lower-class Javanese teenage boy excited about sex, likes to spy on fellow villagers in flagrante, but when he witnesses a savage rape, he is deeply traumatized and becomes impotent. His efforts to get his virility back all fail, and Ajo Kawir turns to fighting as a way to vent his frustrations. He is hired to kill a thug named The Tiger, but instead Ajo Kawir falls in love with Iteung, a gorgeous female bodyguard who works for the local mafia. Alas, the course of true love never did run smooth…. Fast-forward a decade. Now a truck driver, Ajo Kawir has reached a new equanimity, thinking that his penis may be trying to teach him a lesson: he even consults it in many situations as if it were his guru—and love may triumph yet.
Vengeance Is Mine, All Others Pay Cash shows Eka Kurniawan in a gritty, comic, pungent mode that fans of Quentin Tarantino will appreciate. But even with its liberal peppering of fights, high-speed car chases, and ladies heaving with desire, the novel continues to explore Kurniawan's familiar themes of the perils of love and of the struggles of women in a violent and corrupt male world.
Request more information
Original Language
BAHASA INDONESIA | Gramedia
Translation Rights
ARABIC | Al Kotob Khan
CHINESE (Complex) | Ecus
ENGLISH (ANZ) | Text Pub.
ENGLISH (Indian Subcontinent) | Speaking Tiger
ENGLISH (North America) | New Directions
ENGLISH (UK & Comm. excl Canada & ANZ) | Pushkin Press
FRENCH | Sabine Wespieser
GERMAN | Unionsverlag
ITALIAN | Marsilio
Film Rights
Film rights sold to Palari Films
Other Books