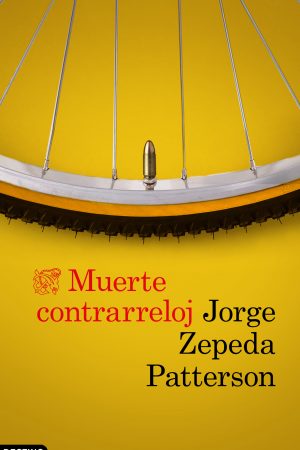 The Black Jersey
«There are cyclists willing to die to win a single leg of the Tour, taking suicidal descents at more than 90 kilometers per hour, but I also know there are cyclists willing to kill to win.»
Marc Moreau, a professional cyclist with a military past, is part of a top Tour de France team led by his best friend, an American star favored to win this year's Tour. But the competition takes a dark turn when racers begin to drop out in a series of violent accidents: a mugging that ends in an ankle being crushed, a nasty bout of food poisoning, and two spectators caught in the wrong place at the wrong time. The teams and their entourages retreat into paranoid lockdown even as they must continue racing each day. The mountain inclines grow steeper and the accidents turn deadlier: a suspicious suicide, an exploded trailer, a loose wheel at the edge of a cliff. Marc agrees to help the French police with their investigations from the inside and becomes convinced that the culprit is a cyclist who wants to win at any cost. But as the victim count rises, the number of potential murderers—and potential champions—dwindles.
Marc begins to have the sickening realization that his own team has been most favored by the murderer's actions, and in the final stages of the race Mark himself emerges as the only cyclist left who could possibly beat his best friend and win the Tour. Whom can Marc trust? Whom should he protect? What decision will he make if he's asked to choose between justice, loyalty, and glory?
Request more information
Covers
Original Language
SPANISH (World) | Planeta
Translation Rights
CZECH | Albatros Media
DANISH | DreamLitt
DUTCH | Karakter
ENGLISH (World) | Random House US
FINNISH | Minerva Kustannus
FRENCH | Actes Sud
GERMAN | Elster Salis Verlag
HUNGARIAN | Európa Publishers
ICELANDIC | Tindur
ITALIAN | Piemme
POLISH | Sonia Draga
PORTUGUESE (Brazil) | Planeta
PORTUGUESE (Portugal) | Planeta
ROMANIAN | Crime Scene Press
Film Rights
FILM RIGHTS SOLD only for French TV series. All other audiovisual rights available.
Reviews
«The Mexican Stieg Larsson.» Kirkus
«For fans of Le Tour, Jorge Zepeda Patterson has crafted the perfect mystery novel, and for all mystery fans he opens up the fascinating and ferocious world of bike racing. The Black Jersey is a feat of story-telling, as fast-paced as any stage of the Tour de France, and with an ending ten times more unpredictable and exciting.» ―Mark Pryor, author of the Hugo Marston mystery novels
«The Black Jersey is a joy from start to hair-raising finish line, even for someone like me who prefers a good meal to any kind of competitive sport. Bravo.» ―ML Longworth, author of the Provençal Mystery Series
«A deliciously juicy story of suspense in the vein of Agatha Christie.» ―Milenio
«[Think] Hercule Poirot, as a cyclist... [This is] a novel waiting to be devoured.» ―El País
«A fast-paced story that submerges the reader not only in the intrigue of discovering who the killer is but also in the adreniline rush of competition, deadly in itself. ―Todo Literatura
Other Books