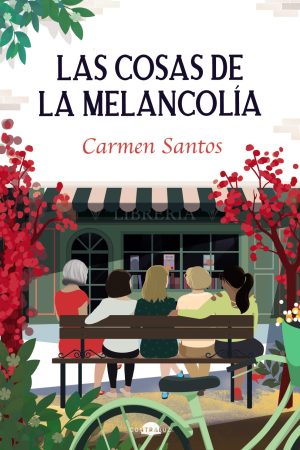 The Thing About Melancholy
Elisa, who is almost fifty, is no longer the same person who, years ago, broke up with Zaro, the love of her life. Now she feels completely different: freer, more spontaneous, less afraid. And stronger too, because the support of her wonderful friends Mabel, Anacris, Susa and Noelia have helped her to pick up the pieces and love herself again.
All of the friends, except Noelia, are around fifty years old and face challenging changes like illness and loss, family and sentimental ups and downs, toxic relationships and, ultimately, all the crises that life has in store for them.
One of those complications involves Elisa and Zaro's paths crossing again within the pages of the latest novel that he has just published. And just how are you supposed to reminiscence about a past love when she you are a bookseller and the person who broke your heart is one of the most successful novelists? Luckily for Elisa, she has the best friends that she could ask for, and she can count on them to overcome any obstacle, no matter how painful it may be. But these friends also have their own challenges, and Elisa will have to lend a hand so they can also overcome them.
With a dizzying narrative pulse, with fluid, agile and exciting prose, Carmen Santos composes a brave and fun novel about destructive loves, loves that return from the past and unexpected loves. But, above all, about friendship.
Request more information
Original Language
SPANISH | Contraluz / Grupo Anaya
SPANISH (Audio) | Audible
Other Books