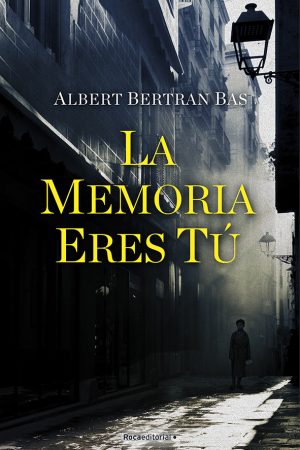 Memory Is You
A unique journey through the history of Spain and through the eyes of a fifteen-year-old boy.
My name is Homer and I lost my family during the war. I have crossed the Pyrenees on foot when I was fifteen years old on my way into exile. I have grown up an orphan on the streets of Barcelona and have touched death in the prisons of Uruguay. I've had a drink with Hemingway, saluted Hitler, and made love in Franco's car. I've been shot in the back and shot in the heart. I have been where the wind dies and I have slept among lost treasures. They have shot me. I have inspired geniuses and met others. I have drunk until I fell, I have laughed until I cried, I have dreamed, I have stolen and I have killed. And I have fallen in love. Three times. All three with the same woman.
This is my story. This is my odyssey.
Homero is a fifteen-year-old teenager, the only child of a wealthy family in Barcelona, ​​who is left alone during the Spanish Civil War. His life becomes a struggle - both internal and external - for survival, loneliness and self-discovery. While he does everything possible to track down his father, the indomitable Chloe is always present in his mind, a farmer who saved his life and who will mark it forever. Although they both belong to different worlds, their lives will intertwine at different times and situations throughout a decade.
Memory Is You is a unique journey through the eyes of a boy who, while trying to discover who he really is, progresses through the history of Spain crossing characters like Robert Capa, Hemingway, Hitler or Machado; witnessing inventions such as table football and historical moments such as the entry of the nationals in Barcelona or the meeting in Hendaye between Franco and Hitler. Because knowing our history is not the same as walking through it.
Request more information
Covers
Original Language
SPANISH (World) | Roca Editorial
Translation Rights
CATALAN | Roca Editorial
FRENCH | City Editions
GREEK | Klidarithmos Publications
RUSSIAN | Phantom Press
UKRANIAN | Laboratory Publisher
Film Rights
Screen rights sold to Filmax.
Reviews
"Narrated with the vertigo of Ken Follet's pen" La Vanguardia
"A fast-paced novel that gives no break" Página Dos RTVE
"An energetic debut, simple prose but addictive structure" elDiario.es
"Nostalgia, adventure, love, pain... the past becomes real in front of our eyes. An intense and moving novel, full of literary nods, that takes us back to the times when the pages of a book led us to discover a new world. You have to read it!" Elia Barceló
"Memory is you it is a novel of friendship, loyalty, dreams to fulfill, struggle and love in difficult times. A novel full of life by an author who has a lot to say and tell and who we will certainly keep track of" Delectoralector
"Memory is you has brought me unique moments, a story full of love beyond times and circumstances, full of magic, symbolism and an eternal song that is repeated in a loop and never ends. A splendid debut although you can see Albert's professional career because he really writes in a delicious way that catches the reader. Definitely a novel that I hope gives a lot to talk about because the story deserves it." Eduardo Heras- Algunos libros buenos
"Memory Is You is a novel that tells a beautiful story and does so in a wonderful way. Extremely entertaining, with superbly constructed characters, it's a book to enjoy and get excited about." Laky-Libros que hay que leer
"A Spanish Jonas Jonasson" EFE