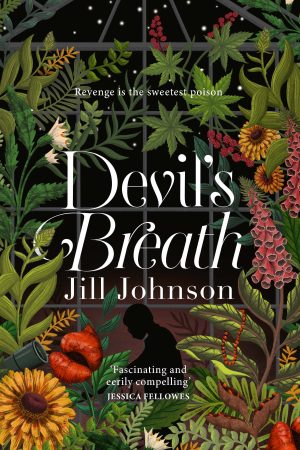 Devil's Breath
I've always been better with plants than people . . .
Eustacia Rose is a Professor of Botanical Toxicology who lives alone in London with only her extensive collection of poisonous plants for company. She tends to her garden with meticulous care. Her life is quiet. Her schedule never changes. Until the day she hears a scream and the temptation to investigate proves irresistible.
Through her telescope, Professor Rose is drawn into the life of an extraordinarily beautiful neighbour, Simone, and nicknames the men who visit her after poisonous plants according to the toxic effect they have on Simone. But who are these four men? And why does Eustacia Rose recognize one of them?
Just as she preserves her secret garden, she feels inexplicably compelled to protect her neighbour. But when her precious garden is vandalized and someone close to Simone is murdered with a toxin derived from a rare poisonous plant, Eustacia finds herself implicated in the crime.
After all, no one knows toxic plants like she does . . .
Request more information
Covers
Original Language
ENGLISH (World excl. NA) | Black & White Publishing/Bonnier UK
ENGLISH (NA) | Poisoned Pen Press/Sourcebooks
Translation Rights
CZECH | Grada / Metafora
FRENCH | Michel Lafon
POLISH | Znak Koncept
RUSSIAN | AST
Prizes
Reviews
"Devil's Breath is at once fascinating and eerily compelling, and Professor Eustacia Rose is a delight – a brilliant and original new heroine who may be an expert on rare poisonous plants but has a lot to learn when it comes to the dark side of human nature." Jessica Fellowes, New York Times bestselling author of The Mitford Murders series
"Eustacia Rose is a wonderful character ... and her story is a blooming good read." The Times
"Packed with intriguing, well-drawn characters, vivid descriptions and a plot full of twists and turns, Devil's Breath is a must for lovers of crime fiction that's just a bit different from the norm." Heat Magazine
"I know nothing about plants or botany but it's absolutely not an obstacle to enjoying it - the thing that really stands out is the character of Professor Rose and the way that she is drawn by the author. That was the hook for me, I was very compelled by the central character." Nish Kumar, BBC Between the Covers
"A quick and thrilling read, an intoxicating tale, Devil's Breath might take your breath away." Salena Godden, author of Mrs Death Misses Death
"Professor Eustacia Rose, genius botanical toxicologist, eccentric loner, instinctive detective and all-round mystery – a splendid creation." M. J. Carter, author of the Blake and Avery Mystery novels
"A creeper vine of intrigue and suspense, with a most unlikely and engaging star detective at its heart." Esther Freud, author of I Couldn't Love You More
"Sinister, Seductive and Sensational!" Waterstones bookseller review
Other Books