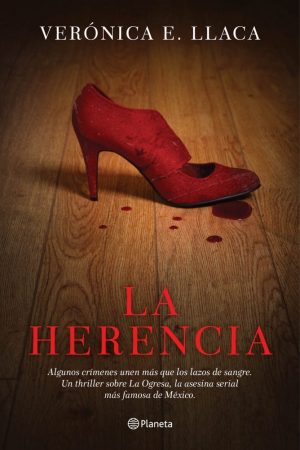 Blood Ties
Once upon a time, there was a woman the press called the Hyena-Woman. Infant Annihilator. Witch. Child-Chopper. Butcher of Little Angels. Monster. The Ogress of Colonia Roma.
Julián and I called her Mother.
When the writer Ignacio Suárez is sent photos of two murdered women, mirroring a passage of his detective novel, he rushes to uncover who is responsible.
What no one suspects is that the key to solving these crimes lies in the forgotten story of Felícitas Sánchez, the midwife turned child-killer who became known in the 1940s as 'The Ogress of Colonia Roma'.
Diary entries and newspaper articles come together in this gripping tale to reveal how Felícitas, who grew up in a small community in Mexico, became the infamous child trafficker and murderer in the country's capital, and how her crimes are linked to this new wave of murders.
Interweaving two timelines, Verónica Llaca evokes a tale of cursed bloodlines, forcing us to question the origin and inheritance of evil and how far we can truly escape our past.
Request more information
Covers
Original Language
SPANISH (World) | Grupo Planeta México
Translation Rights
ENGLISH (World) | Mountain Leopard Press
PORTUGUESE (Brazil) | Faro Editorial
RUSSIAN | Eksmo
Film Rights
Audiovisual rights sold. Producer to be announced.
Reviews
"With rich prose and based on a horrifying true story, Verónica E. Llaca builds a thriller around two timelines about blood ties and difficult decisions with consequences that may destroy more than one life." Diario de México
"Verónica Llaca is James Ellroy's literary sibling. This crime novel astonishes with its handling and use of language, time, and voice." Guillermo Arriaga, Academy Award-winning screenwriter of Babel
 "A raw and exciting thriller that embraces women's freedom but at the same time demystifies motherhood and femininity through the character of The Ogress of Colonia Roma." Ally Torres, Modernidades