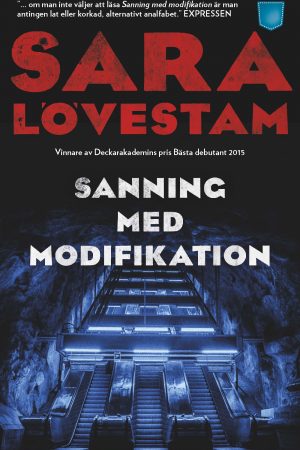 The Truth Behind the Lie
#1 part of Kouplan Series
An undocumented Iranian refugee risks deportation and danger when he becomes an amateur detective in Stockholm to make ends meet.
When a six year old girl disappears and calling the police isn't an option, her desperate mother Pernilla turns to an unlikely source for help. She finds a cryptic ad online for a private investigator:
"Need help, but can't contact the police?"
That's where Kouplan comes in. He's an Iranian refugee living in hiding. He and his brother were forced to leave Iran after their involvement with a radical newspaper hated by the regime was discovered. Kouplan's brother disappeared, and he hasn't seen him in four years. He makes a living as a P.I. working under the radar waiting for the day he can legally apply for asylum.
Pernilla's daughter has vanished without a trace, and Kouplan is an expert at living and working off the grid. He's the perfect P.I. to help... but something in Pernilla's story doesn't add up. She might need help that he can't offer... and the little girl's life hangs in the balance.
The Truth Behind The Lie is Sara Lövestam's award-winning and gripping novel about blurred lines, second chances, and the lengths one will go to for the truth.
Request more information
Original Language
Translation Rights
DANISH | Aronsen Forlaget
DUTCH | Stortebeeker
ENGLISH (World) | St. Martin's Press
FRENCH | Robert Laffont
GERMAN | Rowohlt
GREEK | Oceanida/Niki Ekdotiki
PERSIAN | Parian Publications
Prizes
Grand Prix de Littérature Policière 2017
Deckarakademin's (Swedish Crime Writers' Academy) Award for the Best Debut Crime Novel of 2015
De Goulden Vleermuis Prize 2017
Reviews
«The best of novels. Not only because of the topics (refugees, exclusion, loneliness, homelessness), but also for the humanity that exhales. And the prose: so delicate and balanced.» Göteborg Posten

«Impeccable. An anti-hero par excellence (…) a book that ignites from the first page. (…) Sara excels at throwing her reader off balance. Just in the space of a few lines, when you think you are in the middle of a detective novel, it turns to a social novel, and vice-versa. (…) You feel deliciously lost. (…) The descriptions are acute and well-chiselled, full of empathy, never oversensitive or over-voyeuristic. (…) One of the new Swedish literary voices. (….) As a teacher of immigrants, Sara knows what she is talking about. Kouplan's story feels incredibly real.» —Le Monde des Livres
«Sara Lövestam has written an innovative, multi-layered mystery novel with a sympathetic and highly unusual protagonist. Her narrative style is appealing and poetic.» Fredrik Malmquist
«I know of no other writer than Sara Lövestam who can fill their stories with empathy, dignity and respect for those who are vulnerable and left aside, as well as keeping, constantly, the reader's attention.» Corren
«Let's highlight Sara Lövestam's use of language: incredibly balanced, a pleasure to read.» Blog MsHisingen
«I have never read a novel like this. Incredibly original.» Eva Åström, Expressen Söndag
«The Truth Behind The Lie has the same rhythm as Sara Lövestam's previous novels, and it also tells the story of odd and frail characters with a common search and collaboration. But in this novel the tone has darkened and the story is going deeper and more complex than in previous novels. The Truth Behind The Lie is great! The best! I know of no other writer than Sara Lövestam who can fill their stories with empathy, dignity and respect for those who are vulnerable and left aside, as well as keeping, constantly, the reader's attention. And note the last sentence on the back cover, which promises more books about Kouplan's survival. But start by reading this. You just have to!» Jacob Karlander, Bokcirkeln Corren.se 
«The Truth Behind The Lie means that there is no truth. (...) It is also a qualified truth. Oops, the great Sara Lövestam has made this concept completely hers –and in so many ways– in this novel. Great novel!» Bokgalleriet
«The Truth Behind The Lie confirms the singularity of Sara Lövestam. What a surprising character this Kouplan!» Lire