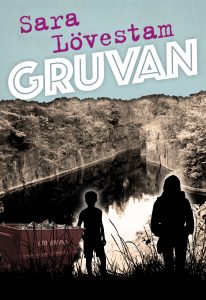 The Mine
Ellen spends her summer with her father, her two older siblings and her father's new wife (whom she hates) on the idyllic summer island of Utö. The house that they rent is a big summer cottage, but on the same plot there is an old shed with broken windows and rotten floors. One of the first days of vacation, Ellen decides to spend the night there, to prove that she is not afraid. It's in this shed where she finds, hidden in the walls, an old diary from 1848 by a 12-year-old boy named Anton. In those days, Utö had a booming iron mining industry. Anton's father and older brothers all worked in the mines, suffering the tyranny of the manager, while Anton went to school, fearing the day when he too would have to start working in the mines.
Despite the handwriting, Ellen reads the diary obsessively, finding out Anton's dramatic fate and unresolved mystery. Can she solve it so many years later?
The Mine is an exciting novel intertwining past and present, aimed to 9-12 year-old readers. Two characters living in very different times, different families and upbringings who appear to have much more in common than one may think ―a longing for justice and equality for all.
Request more information
Original Language
SWEDISH | Lilla Piratförlaget
Prizes
Nominated for Crimetime Award 2019