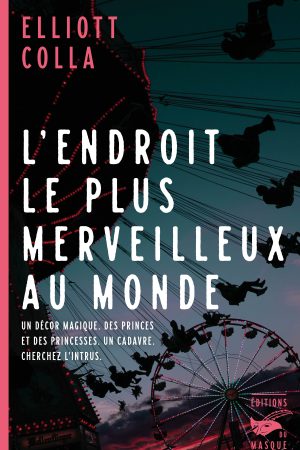 The Happiest Dick on Earth
Southern California, 1973. It's all pretty copacetic for Eddie Wakabayashi. After playing MP in Vietnam, Eddie returns to Orange County, with little to show for himself but a set of golf clubs, a solid swing, and a vocabulary that is downright brassy. Eddie wants to pursue a career in law enforcement, but the only constabulary that'll hire a man born in Manzanar seems to be the Land of Enchantment PD.
Nowadays he's a detective, working the old Land of Enchantment beat, from Wildwestland to the Mad Tea Party, all the way to Fiestaland and back again. The remuneration is small potatoes and the charge—breaking up fistfights, arresting shoplifters, confiscating drugs, and chasing off hippies—unfussy and unfun. But with a lazy boss and plenty of opportunities for swag, the set-up is jake enough. It's like a no-show job, only without all the not-showing-up-for-it part. But Eddie isn't any better as a Wonder-land cop than he was at soldiering. In fact, he'd rather be hitting small balls with a long stick or canoodling with the thirsty princesses who frequent his local. He lives in a comfortable American world where Gene Vincent is never more than a rotation away, and there's more than enough war to go around. And venery, too, in case you were wondering what kind of book this is.
Lucky for everyone, Eddie doesn't have to practice detection. That is, not until a high-profile general shows up dead in the bowels of the Mount Rushmore, and Eddie finds himself at the center of a smuggling ring that has flooded the Southland in Laotian heroin. Deaths ensue, including some unexpected ones, but not all at once. If Eddie can't put the pieces together quickly, he'll take the fall for all of it, whether or not he can keep the story straight. For what it's worth, not everything about this story is so straight. And yes, there's a MacGuffin, some peyote, and a femme of a woman whose maiden name is spelled F-A-T-A-L-E.
Request more information
Translation Rights
FRENCH | Le Masque/JC Lattès
Other Books