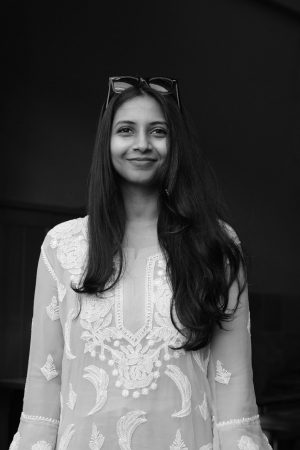 The Book of Ma
It had always been Ma, Mira and Ashu, with Ashu's name trailing behind just like he did in real life. The family of three sings Simon and Garfunkel songs together as they drive around in Ma's sun-yellow car. They watch TV together on the sofa. They holiday on a mango farm once a year. And, on monsoon days, within their damp, one-bedroom flat in a small city outside of Delhi, they are coiled together, protective of one another, glued to each other's side.
But despite this togetherness, each is wrapped in their own ecosystem of loneliness. Ma is an unconventional mother, whose strict convent education failed to tame her rebelliousness. There are many questions about her that the children just can't answer—like where their father is or why Ma seems to like Mira more than Ashu or why she sometimes disappears into her room and doesn't talk to anybody for days.
As one long, hot summer unfolds, secrets bloom and swell in the sultry heat as new people enter their lives. Ashu, at fourteen, has met his first love, although society—and the boy's parents—seem determined to keep them apart. Imaginative eight-year-old Mira, who Ma says was born with a question mark etched on her face, is desperate for a secret of her own until the coach at the local swimming pool grants her wish in the worst way possible. And, as the summer ripens softly like an old peach, it turns out that the biggest secret of them all was right beside them all along, carefully wrapped up in memory and hidden in the pages of Ma's old journal.
Request more information
Original Language
ENGLISH (Indian Subcontinent) | HarperCollins India
Prizes
Winner of the 2021 Pontas & JJ Bola Emerging Writers Prize