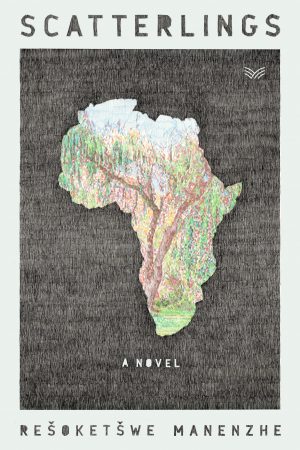 Scatterlings
In this journey, someone will get lost, someone will give up and turn back, and someone may go all the way to the end. All these people will try to tell you the story of what happened.
Abram, a South African winemaker who might be English or Dutch (depending on whomever happens to be listening to his troubles) will tell you that things went wrong when his wife stopped loving him, when his children couldn't be citizens of their country of birth, and his country tried to put him in prison and steal his vote and estate.
He will also tell you that in a twist of irony, his treason came about because he loved his wife and children. Abram's wife, Alisa, will tell you that things went wrong much earlier than that. She will outline the details of her displacement with some simplicity. This is what she knows: her ancestors were brought to the Caribbean islands as slaves, she was born in 1882, and after her birth parents died she was adopted by an Englishman who raised her in the United Kingdom.
Then there's Dido, their troubled, eldest daughter; there's also an angry man along the way and a woman who kept a secret she shouldn't have. That's how the story starts. And even the wind doesn't know who will get lost, who will turn back, and who will eventually reach home.
Request more information
Covers
Original Language
ENGLISH (SA) | Jacana Media
ENGLISH (WEL excl. SA) | HarperVia
Translation Rights
CZECH | Odeon/Euromedia
GERMAN | Penguin Verlag
ITALIAN | Solferino
Prizes
Winner of the 2020 Dinaane Debut Fiction Award
Winner of the 2021 HSS Award for Fiction by a Single Author
Winner of the 2021 University of Johannesburg Prize for South African Writing in English
Winner of the 2021 South African Literary Awards, for Fiction in English in the category of "First Time Published Author"
Shortlisted to the 2021 Sunday Times CNA Literary Awards
Reviews
"Scatterlings is a brilliant piece of writing, telling a story seldom told in South Africa. It is a compelling, original novel, ambitious in its form, with a pioneering depth of research." Jennifer Malec, editor of The Johannesburg Review of Books and judge of the 2020 Dinaane Debut Fiction Award
"Scatterlings will influence research in the intersection between individual and communal notions of history, being and time." Judges of the 2021 HSS Awards
"Scatterlings leans into a sad time, and what it finds there does much to cut a swathe through a genre—South African historical fiction—that overflows with men's stories. The novel brings texture to a story that is more faded and more illegible than other moments in our shared history. It may be too sad for the telling, but the attempt is a worthy one." Wamuwi Mbao, The Johannesburg Review of Books
"What Scatterlings illustrates is that it is possible to write what you know without limiting yourself to your own actual, physical, lived experience." The Reading List