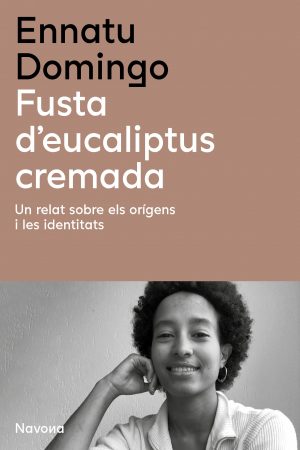 Burnt Eucalyptus Wood
On Origins, Language, and Identity
Who are you, when you come from two places?
Ennatu Domingo was adopted from Ethiopia at the age of seven and transplanted to Barcelona where she learned to flourish. But she never forgot her nomadic childhood in the mountains and meadows of Gondar, near the northern border with Eritrea.
Having witnessed the hardships of Ethiopian rural women at an early age, she was inspired to study the patriarchal structures that underpinned her individual experiences, both in the West and in contemporary Ethiopia. She has lived in Kenya, Belgium and the UK, and has travelled across the five continents, but keeps returning to the country of her childhood, to re-construct a lost identity guided by the echo of her first language Amharic and the weight of a rich cultural heritage.
Torn between forgetting and remembering, Ennatu explores the dilemma of international adoptees and migrant children and their quest for belonging in a book destined to be a classic of its genre.
Burnt Eucalyptus Wood is a book to be read in a heartbeat; it is a necessary and essential account to understand today's world.
Request more information
Covers
Original Language
Translation Rights
ENGLISH (World) | The Indigo Press
ENGLISH (Audio) | Blackstone Audio
GERMAN | Orlanda Verlag
KOREAN | Adonis Books
SPANISH | Navona
SPANISH (Audio) | Storytel
Reviews
A Brittle Paper Notable Book of 2023
"Burnt Eucalyptus Wood defies easy categorization. It is at once a love story and a battle cry, an elegy and an anthem. It is compulsive reading, bursting with tenderness while remaining uncompromising in its assessments and realizations. Take note: this astonishing book announces the arrival of a rare voice, wise beyond her years. Perhaps beyond all of ours." Maaza Mengiste, Booker Prize-shortlisted author of The Shadow King
"The biography of Ennatu Domingo is impressive, and hearing her speak is no less impressive. In this small body there are more experiences than can be imagined for a 25-year-old from Barcelona." Ara
"In the midst of so much pessimism, especially among young people, this one book is like a crack of light in the dark." Starred review in Time Out Barcelona
"The author mixes the sentimental, intimate and evocative part, which she knows first-hand, with statistics and reports on the African social and economic reality." La Vanguardia