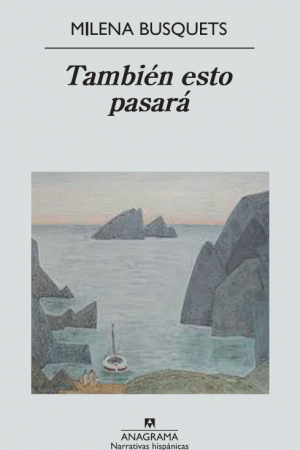 This Too Shall Pass
Blanca is forty years old and motherless. Shaken by the unexpected death of the most important person in her life, she suddenly realizes that she has no idea what her future will look like.
To ease her dizzying grief and confusion, Blanca turns to her dearest friends and closest family, and looks for a change of scenery. Leaving Barcelona behind, she returns to Cadaqués, on the coast, accompanied by her two sons, two ex-husbands and two best friends, and makes a plan to meet her married lover for a few stolen moments as well. Surrounded by those she loves most, she spends the summer in an impossibly beautiful place, finding ways to reconnect and understand what it means to truly, happily live on her own terms, just as her mother would have wanted.
A fresh, honest, and ruefully funny story about love, sex, marriage, grief, friendship and parenthood.
Request more information
Covers
Original Language
SPANISH | Anagrama
SPANISH (US) | Vintage Español
SPANISH (Audio) | Storytel
Translation Rights
BULGARIAN | Era Publishers
CATALAN | Amsterdam Llibres
CHINESE (simplified) | Xiron/Big Fish
CHINESE (complex) | Yeren Publishing House
CROATIAN | Vuković & Runjić
CZECH | Plus (Albatros)
DUTCH | Meulenhoff
ENGLISH (US) | Hogarth Press (Crown)
ENGLISH (UK) | Harvill Secker
ESTONIAN | Petrone Print
FINNISH | Otava
FRENCH | Gallimard
GALICIAN | Editorial Bululú
GERMAN | Suhrkamp
GREEK | Patakis
HEBREW | Modan
HUNGARIAN | Libri Kiadó
JAPANESE | Hayakawa Publishing Corporation
ITALIAN | Rizzoli/RCS Libri
KOREAN | Munhakdongne
LITHUANIAN | Alma Littera
MACEDONIAN | TRI Publishing Center
NORWEGIAN | Gyldendal
POLISH | Czarna Owca
PORTUGUESE (Brazil) | Companhia das letras
PORTUGUESE (Portugal) | Jacarandá (Presença)
ROMANIAN | Polirom
RUSSIAN | Sindbad
SERBIAN | Laguna
SWEDISH | Massolit Förlag
TURKISH | Domingo
VIETNAMESE | Nha Man

Film Rights
Prizes
Longlisted to the Dublin International Literary Award (IMPAC) 2017
Reviews
«Should be the hit of the summer. Couldn't stop. Fun, raw, sexy, true.» Matt Haig
«A beautiful novel about life, death, love and sex. This Too Shall Pass is a funny, sexy, fiercely clever novel that takes us into the heart of what it means to love and how we must try to find a way to live even when we are brought low by grief.» Cathy Rentzenbrink, The Pool
«Like a day at the beach - a European beach, with cigarettes and espresso - this novel lingers in the mind well after it is over, reminding us of the intimacy between pleasure and loss» New York Times Book Review
«Unforgettable» Marie Claire
«Funny, philosphical and a delight to read.» Stylist
«Spanish literature has found its phenomenon» Le Figaro Littéraire
«Full of subtle wisdom"» Harper's Bazaar
«[A] summery, sexy, cool debut novel…light, profound, sensual, unmistakably European: this may be the only book about grief to feel like a vacation.» Kirkus Review, *Starred*
«Busquets has a compelling, original voice. [She] is a brilliant showstopper – just as you're laughing at Blanca's breezy sarcasm, her expletive-infested brio, she catches your throat with a thought so disarmingly sad it turns the room grey. The worst thing about the death of a mother, she says, is not that you won't ever see her face again but you will never again be seen through her eyes. Therein lies the true loneliness of losing a parent!» Big Issue
«Funny, raw, honest.» Psychologies
«Ultimately, the novel is the search for the right words to express a complex and intricate mother-daughter love. (…) A praiseworthy and truly literary work whose aim is not to pass, but to stay.» La Vanguardia
«Milena possesses an overwhelming honesty. Like her mother 's, but less bitter. She knows it, and she uses it.» La Vanguardia
«A literary tsunami. (…) A seductive voice, one that wants to take a strong bite of life.» ARA
«The first impression of the tone is that of a French-style comedy with moments of light snobbery. But don't be fooled: once you bite the hook, the text will get stuck to your palate, it will drag you along, making you taste the salt, the blood, the horizon and the abyss of the sea…» La Vanguardia
«A smartly articulated celebration of vitality and grief.» La Vanguardia
«Therein lies the secret of this short and deeply intense novel: in the building of a conscience that has been suddenly expelled from paradise.» El Periódico
«An intense novel, with delicate prose, both touching and deeply funny.» El Cultural
Other Books