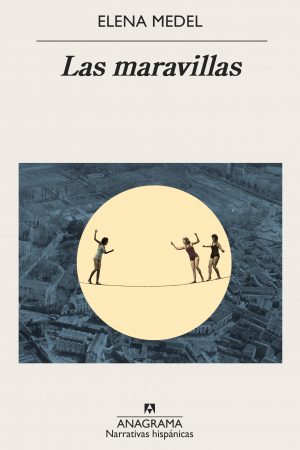 The Wonders
María and Alicia were born in two different eras and, despite this, their lives are running in parallel: their childhood and adolescence, their early youth and their arrival at maturity.
At a crucial moment in her life, María will decide what consequences she will have to take to change her family's life in a humble neighborhood in the south for a life, without a past, in the big city. Several decades later, Alicia repeats the very same decision and chooses the same path, building a life in solitude, shared apartments and precarious jobs.
What is the weight of family in our lives, and what is the weight of money in our lives? What happens when a mother decides not to take care of a daughter, and what happens when a daughter decides not to take care of a mother? How long do we have to amend what we have failed?
The Wonders is a bildungsroman in which we see how money, family and social class mark the lives of two women from two different generations. An honest and lyrical portrayal of working-class women, inflicted by precariousness and patriarchy, who are plagued by the same doubt: would their lives have been different had they been born in another place, at another time, in another body?
Elena Medel's highly anticipated debut novel is a novel in the classical sense of the term, entirely contemporary, that explores the portrayal of women, family and social class. Intertwined lives on the outskirts of a large city, Madrid, from the last years of the dictatorship to the present day.
Request more information
Covers
Original Language
SPANISH (World) | Anagrama
Translation Rights
CROATIAN | Hena Com
CZECH | Host
DUTCH | Meridiaan Uitgevers
ENGLISH (UK & Comm. excl. Canada) | Pushkin Press
ENGLISH (North America) | Algonquin
FRENCH | La Croisée
GERMAN | Suhrkamp
GREEK | Patakis
ITALIAN | Einaudi
KOREAN | Marco Polo Press
POLISH | Foksal
PORTUGUESE (Portugal) | Dom Quixote
PORTUGUESE (Brazil) | Editora Todavia
SWEDISH | Norstedts
TURKISH | Kultur Yayinlari
Prizes
Umbral Prize for the Best Book Of The Year 2020
Longlisted to the Finestres Award 2020
Reviews
"The Wonders is not a loud, fizzy debut, and this is one of its strengths. It is a vivid and painfully intimate account of two easily overlooked lives. Medel paints a gray world of drudgery and solitude, yet she also makes room for her characters to grow into their power as women, a power they discover does not in fact lie in money." The New York Times
"The lives of two working-class women are interweaved in a bold debut novel with flashes of beauty." The Guardian
"Arresting characterizations and vivid prose fuel Medel's searing look at the impact gender, class, and financial hardships have on working-class Spanish women's lives as the country is buffeted by wider cultural shifts. It adds up to a powerful story." Publishers Weekly, starred review
"Medel's debut novel examines the lives of three generations of women in Madrid with an unsparing eye." Kirkus Reviews, starred review
"The Wonders is a poet's novel, delicate but strong, impressing its images firmly on the imagination." Hilary Mantel, author of Booker Prize winners Wolf Hall and Bring Up the Bodies
"A skillful, shattering first novel of great finesse, rare intelligence and profound maturity." Le Monde
"Completely unsentimental and with a harshness that hides the most radiant and painful of scars, Elena Medel's The Wonders brings to life several generations of working women: it's a serene and impious novel that puts class, feminism, and the eternal complexity of family ties at the fore." Mariana Enriquez, author of Things We Lost in The Fire
"In the wake of Annie Ernaux and Virginia Woolf, Elena Medel weaves together the intimate and the political from a rarely read point of view. A powerful new feminist voice." L'Humanité
"A beautiful first novel of mastery and intelligence. Wonderful." Lire Magazine Littéraire
"An ambitious and enlightening book that seeks to highlight the plight of Spain's working-class women." The Irish Times
"A mesmerizing read. Medel's prose is hypnotic, it's hard to believe this is her first novel. I was completely engrossed in this story, in the shadow each generation casts on the one that comes after it, in the tension between caring for oneself and caring for others." Avni Doshi, author of the 2020 Booker Prize Shortlisted Burnt Sugar
"Medel's sensitive debut, charged with feminist insights but never losing sight of the particularities of its characters, astutely examines the forces—political, economic, familial, and personal—that have shaped the two women's richly detailed lives. Though penned in by class and gender, often in ways they do not recognize, Maria and Alicia come across not as simple victims but as struggling survivors, still open to change." Booklist, starred review
"A powerfully strange, translucent, but empathetic novel." Big Issue
"Carried by a rebellious verve and a tender writing, the novel evokes both Annie Ernaux and Nicolas Mathieu, and ignites our spirits." Hubert Artus, Causette
"The Wonders is a gorgeous exploration of family, security, politics, and independence, and it will leave you in a daze." Feminist Book Club Podcast
"Throughout this captivating novel, Medel's poetic voice shines." Ms. Magazine
"I read The Wonders is one page-turning night. Yet to describe Elena Medel's debut as gripping is to miss the point. An unflinching story about class, sex, family, and working women everywhere, this book achieves a rare combination of novelistic plotting and virtuosic interiority that left me rooting for Maria and Alicia as if I'd known them all my life." Anna Solomon, author of The Book of V
"If we were academics, we'd say that narration and style go hand in hand in a literary wonder that is absolutely personal yet reminds you of the audacity of Virgina Woolf, Carmen Laforet's atmosphere and the sharpness of Rafael Chirbes. If we were journalists, we would say that one of Spain's best poets has become one of its most important novelists." Javier Rodríguez Marcos, Babelia, El País
"Few books honour their title as much as The Wonders does, Elena Medel's (Córdoba, 1985) first novel. Without falling in any clichés, and with a lyrical prose, Medel narrates what the recent Spain's history has entailed for women until yesterday. Because María and Alicia, the protagonists, could be any of us –however, we aren't. A narrative marvel." Inés Martín Rodrigo, ABC Cultural
 "Las maravillas is the novel Luisa Carnés would have written had she lived in the 21stCentury, the Tea Rooms of today. Elena Medel's (Córdoba, 1985) voice is solid and powerful, maintaining the pulse throughout the whole narrative and showing a rare maturity for a first novel. Las maravillas confirms that the author is not only an excellent poet, but also an excellent novelist." Eva Cosculluela, ABC Cultural
"The author gifts us with characters that fly off from the page, and several superb scenes, masterfully written with a great sense of scenography and ritual: the girls doing her homework, Alicia's bus journey with her partner or the death of the old woman that María's taking care of. All this and the rhythm, the clarity and the talent of knowing how to make a novel break out from its own thesis." Carlos Zanón, Babelia, El País
"Dreamlike yet precise, internal yet expansive, The Wonders moves between generations of women with a clear-eyed empathy for their struggles to be free. Medel's characters are hungry, angry, imperfect, and completely alive." Adrienne Celt, author of Invitation to a Bonfire and End of the World House
"Very rarely do natural talents, linguistic discipline, and emotional rawness coincide. That is the case of Elena Medel, one of the great young poets of our language, whose first novel unfolds a history of crude intimacies, subtle roughness and luminous sadness, who works from the class conscience with moral force, stylistic precision and narrative honesty." Andrés Neuman
"Well written and addressing issues that are unprecedently current. Elena Medel has a new and distinctive voice as a novelist, and we can find in her prose many of her abilities when writing poetry. We'll be talking about this novel for a while. And all for the right reasons." Publishers Weekly
"Vivid and mesmerizing." Debutiful
"Reminiscent in parts of Elena Ferrante and Virginia Woolf, Medel's The Wonders is a stunning debut about the intersection between poverty and womanhood." BookBrowse
"Medel doesn't waste a single word in the telling of the story of María and Alicia, decades apart, as they navigate work, friendship, independence and love." Andrea Cleary, Business Post
"Elena Medel is one of my favorite writers in all of Spain. Brave and tender, extremely intelligent and surprising, her writing is pure poetic lucidity. Hallelujah that she's finally arrived in Portugal." Valter Hugo Mãe
"The Wonders is a novel that looks at people and history with overwhelming clarity. Among the best in contemporary literature." José Luís Peixoto
"Readers will be swept away by the lyrical writing, memorable characters, and vivid settings in this family story of alienation, perseverance, and belonging that spans the past half-century of Spanish history and politics. Both intimate and expansive, universal and unique, THE WONDERS is a mesmerizing and transportive debut." Alyssa Raymond, Copper Dog Books, Beverly, MA 
"A lyrical work that displays Medel's poetic sensibilities and puts a spotlight on the plight of working women everywhere, Medel's fiction debut The Wonders marks the entry of a new and exciting voice in international literature." Bennard Fajardo, Politics and Prose, Washington, D.C.  
"The Wonders is a novel to behold. The multi-generational relationship at the heart of the novel is a richly realized portrait of women grappling with the limits of female agency. Elena Medel (and translators Davis and Bunstead) pulls off the remarkable feat of recalling the best of Elena Ferrante while offering a bold new voice of her own. I can't wait to share The Wonders with our readers." Lesley Rains, City of Asylum Books, Pittsburgh, PA 
Other Books