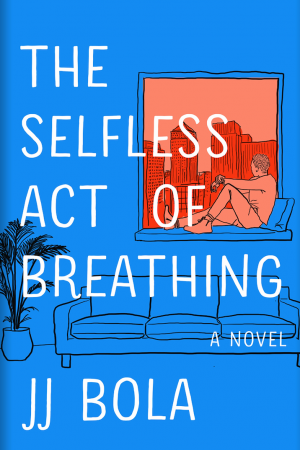 The Selfless Act of Breathing
A heartbreaking, lyrical story for all those who have fantasized about escaping their daily lives and starting over.
Michael Kabongo is a soon-to-be-thirty-year-old British Congolese teacher living in London, on the border of two identities. On paper, he seems to have it all: he's beloved by his students, popular with his coworkers, and the pride and joy of a mother who emigrated from the Congo to the UK in search of a better life. But behind closed doors, he's been struggling with the overwhelming sense that he can't address the injustices he sees raging before him—from his relentless efforts to change the lives of his students for the better to his attempts to transcend the violence and brutality that marginalize young Black men around the world.
Then one day he suffers a devastating loss, and his life is thrown into a tailspin. As he struggles to find a way forward, memories of his father's violent death, the weight of refugeehood, and an increasing sense of dread threaten everything he's worked so hard to achieve. Longing to escape the shadows in his mind and start anew, Michael decides to spontaneously pack up and go to America, the mythical "land of the free," where he imagines everything will be better, easier—a place where he can become someone new, someone without a past filled with pain.
On this transformative journey, Michael travels everywhere from Pittsburgh to San Francisco, partying with new friends, sparking fleeting romances, and splurging on big adventures, with the intention of living the life of his dreams until the money in his bank account runs out.
Written in spellbinding prose, with Bola's trademark magnetic storytelling, The Selfless Act of Breathing takes readers on a wild ride to odd but exciting places as Michael makes surprising new connections and faces old prejudices in settings.
Request more information
Covers
Original Language
ENGLISH (UK & Comm. excl. Canada) | Dialogue Books/Little, Brown
ENGLISH (NA) | Atria Books / Simon & Schuster
Translation Rights
FRENCH | Éditions Mercure de France
GERMAN | Kampa Verlag
ITALIAN | Frassinelli
PORTUGUESE (Brazil) | Dublinense
Film Rights
Reviews
'A beautiful, absorbing read. By turns searing and quietly devastating.' Irenosen Okojie
'In this wonderfully tender novel about masculinity and mental health, about being lost and finding yourself again, Bola's vulnerable delicate writing conveys so much truth and heart about how we are now, how closed we are, how much goes unsaid and the quiet pain in our hearts' Nikesh Shukla
"This book is a bold work with a broad scope, bravely tackling masculinity, hopelessness and despair with force and directness" Okechukwu Nzelu
'I knew from the opening, that this book was going to break my heart. The Selfless Act of Breathing left me breathless. It is beautifully tender. I was gripped right from the opening. The structure pacing, description, narration, and voice make this book a Masterclass in empathy. It is moving with tension multi layered like a symphony. The Selfless Act of Breathing is immersive and reflective; challenging what we might think mental health crisis looks like and who has them.' Yvonne Battle-Felton, author of Remembered
Other Books