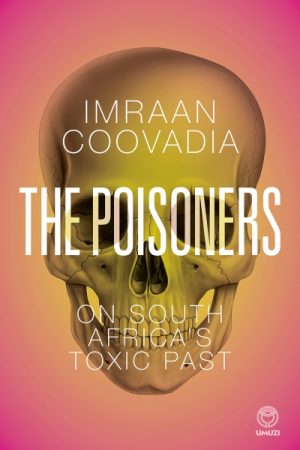 The Poisoners
The Poisoners is a history of four devastating chapters in the making of the region, seen through the disturbing use of toxins and accusations of poisoning circulated by soldiers, spies, and politicians in Zimbabwe and South Africa.
Imraan Coovadia's fascinating new book exposes the secret use of poisons and diseases in the Rhodesian bush war and independent Zimbabwe, and the apparent connection to the 2001 anthrax attacks in the United States; the enquiry into the chemical and biological warfare programme in South Africa known as Project Coast, discovered through the arrest and failed prosecution of Dr Wouter Basson; the use of toxic compounds such as Virodene to treat patients at the height of the Aids epidemic in South Africa, and the insistence of the government that proven therapies like Nevirapine, which could have saved hundreds of thousands of lives, were in fact poisons; and the history of poisoning and accusations of poisoning in the modern history of the African National Congress, from its guerrilla camps in Angola to Jacob Zuma's suggestion that his fourth wife collaborated with a foreign intelligence agency to have him murdered.
But The Poisoners is not merely a book of history. It is also a meditation, by a most perceptive commentator, on the meaning of race, on the unhappy history of black and white in southern Africa, and on the nature of good and evil.
Request more information
Original Language
ENGLISH (South Africa) | Penguin Random House South Africa
Reviews
"Coovadia writes that technically this research should have been the job of prosecutors, historians or journalists. Maybe so, but who better than a novelist and literary scholar to parse the meaning of this intriguing darkness?" Rebecca Davis, Daily Maverick
"Coovadia applies a novelist's feel for character and detail to the shadowy history of the many paranoid politicians, con artists and miscellaneous lowlifes who have turned to the poisoner's art." Christopher McMichael, New Frame
"The genius of Coovadia's book is that it makes connections we ordinarily wouldn't make." Percy Zvomuya, The Mail & Guardian
"The Poisoners is a brilliant disquisition on the poison theme in Southern Africa's 'toxic past' (and present), ramifying as it does into conceptions of subversion, internal dissent, elite competition and conspiracy." Shaun de Waal, News24
"The story broadcasts itself in the manner of a non-fiction novel, with characters jumping off the page in that larger-than-life way that one thinks of as characteristic of great literature – Joseph Conrad, VS Naipaul or even Thomas Pynchon. (...) This is a must-read book and a great-read book. I would be so delighted were Professor Coovadia to take tea with me to discuss it further." Daniel Herwitz
Other Books