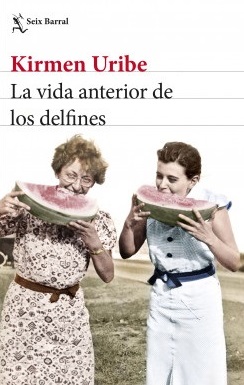 The Past Life of Dolphins
According to an old Basque legend, dolphins, in a previous life, used to be humans. They became dolphins by falling in love with the mythical laminak, that resembled mermaids. By taking that step, their life changed completely. The lives of migrants also change when they start leave the borders of their home countries and, once this journey has started, the path changes and becomes much different to what one imagines.
The Past Life of Dolphins intertwines three different story lines following a non-conventional narrative form: Kirmen Uribe's research at the New York Public Library about the life of pacifist activist and suffragette Rosika Schwimmer, the life of his own family in New York between2018 and 2021 (against the backdrop of the stormy end of Trump's presidency and the pandemic), and the reminiscences of a past friendship linked to a small coastal town in the Basque country where the writer grew up with a group of revolutionary women.
Passionate, tender, and poetic, full of secrets to uncover, The Past Life of Dolphins is Kirmen Uribe's most ambitious novel to date, the most humane, expansive and luminous, and one that keeps redefining the boundaries of fiction and non-fiction, and the novel as a form. Once again, the author blends the story of a family with historical events and the magical folklore of popular Basque folktales.
Request more information
Covers
Original Language
BASQUE | Susa
SPANISH | Seix Barral
Translation Rights
CATALAN | Edicions 62
GERMAN | Berlin Verlag
Prizes
Critics Award 2022 for Best Novel in Basque
Reviews
"In spite of his nature as a poet, or maybe precisely because of it, Uribe is a narrator who is greatly able to hypnotize the reader with his novelistic tale. A tale in which he illuminates some things and withholds others, and in which different points of view allow the reader to perceive how gaze changes everything, how the same event is different according to the position one is in." César Coca, El Correo
"An exquisite book that delves into pacifism, Basque folklore, and the influence of the past." Jesús Ferrer, La Razón
Other Books