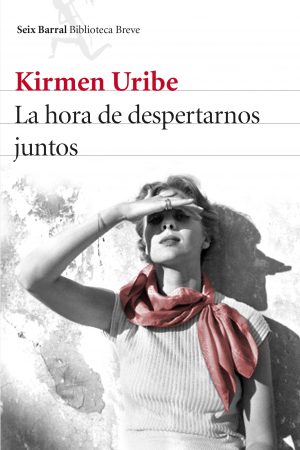 The Hour Of Waking Together
Karmele Urresti lives in Ondarroa, her hometown, a coastal village in the Basque Country, when the Spanish Civil War breaks out. Almost everyone she knows goes into exile, but Karmele decides to stay and take care of the wounded, and to free her father, who is in jail. It is only when the war comes to an end and the fascist regime takes over that she decides to flee to France, where she becomes involved with the Basque Cultural Embassy in exile. There, she meets her future husband, the musician Txomin Letamendi, and together they travel around Europe. When Paris falls to the Germans, the couple flees to Venezuela.
In Venezuela, Txomin joins the Basque Secret Services and eventually the family goes back to Europe, in the middle of World War II. Txomin, who is spying on the Nazis, gets arrested in Barcelona and does not survive the Spanish Dictatorship. Karmele will have to risk everything and depart once more, alone again, with the blind hope of someone who leaves behind what one loves most.
Request more information
Covers
Original Language
Translation Rights
CATALAN | Edicions 62
FRENCH | Le Castor Astral
GALICIAN | Xerais
GREEK | Kastaniotis
SERBIAN | Areté
SPANISH | Seix Barral
PORTUGUESE (Portugal) | Elsinore/2020 Editora
Film Rights
FILM RIGHTS | Txintxua Films
Prizes
Critics Prize 2017 (Basque literature)
Best Book of the Year, given by the Basque Academy
Reviews
«His bright prose, even luxurious, is now mature and gets closer to JM Coetzee, WG Sebald, authors Kirmen Uribe admires greatly, those who intertwine reality and fiction to get into the soul of countries or people.» Juan Cruz, El País
« Through the events of this couple and their families, we get to know the Basque nationalism in democracy. There are defeats, losses, exiles, hopelessness and loyalty. The novel is emotional dynamite and will surely have international echoes.» La Vanguardia, Jordi Amat
«Kirmen Uribe has written a novel full of truth. The characters are real people. The town where all begins and nothing ends is his hometown, Ondarroa. This is as much of a novel as a history book. (…) Love, fight, pain.» Ignasi Aragay, Diari ARA
«In the novel there is politics and history, but the novel also goes beyond all this. It is a story of enormous humanity, with flesh and bone characters, dreamers and losers, who despite living in grim times never give in to hopelessness.»  César Coca, El Correo
«The direct and precise prose of Kirmen Uribe doesn't have to fool us: it's fruit of accuracy, not simplicity. His background is that of a cosmopolitan and sophisticated writer. (…) A writer of great and real talent.» La Vanguardia, JA Masoliver Ródenas
«The main chararacter, Karmele, fights against history because she wants to be the one deciding on her own life. (…) A story of women; a matriarchal novel; a novel on women.» Javier Ancín
«A necessary book.» Àngels Barceló, LA SER
Other Books