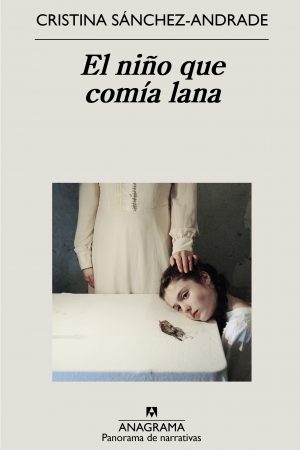 The Boy Who Ate Wool
A child traumatized by the disappearance of his lamb begins to eat wool, which he vomits in the form of balls; a housekeeper dreams of emigrating to Cuba with a puppy, claiming she will become a breeder; a nobleman is given dentures of doubtful origin; a tonsil is removed from a child, which soon becomes a trophy; a shipwrecked man manages to survive thanks to an ineffable secret; an old woman makes an unprecedented decision after the death of her husband; an office worker selects a girlfriend from the catalog who ultimately turns out not to be the woman he dreamed of … These are some of the quirky protagonists of the juicy tales gathered in this volume.
Moving between the macabre and the ironic, between the fable and the gruesome, the crudest realism and the most unbridled fantasy, these stories are an excellent example of the inimitable and stimulating literary universe of Cristina Sánchez-Andrade. Within them, rural Galicia, the depths of Spain, the scenes of Sainete, the strange characters and impossible situations materialize. Death, sex, greed, daydreams, deceptions and disappointments appear, but also the odd crime, grotesque touches, macabre brushstrokes and a peculiar, disgusting and sometimes disturbing mood.
The author, who has already demonstrated the power of her distinct voice in great novels such as The Winterlings (Las Inviernas) and Someone Beneath My Eyelids (Alguien bajo los párpados), demonstrates here a prodigious mastery of the short form with stories that seduce and surprise, full of unexpected twists. Delightfully wicked tales, disturbingly funny, perfidiously suggestive.
Request more information
Original Language
SPANISH (World) | Anagrama
Prizes
The 2020 Setenil Award Winner
Other Books