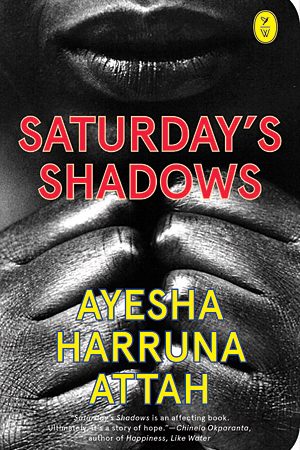 Saturday's Shadows
A thin line exists between sanity and madness, learn the protagonists of Saturday's Shadows, as they try to find and hold onto love in the volatile world of 1990s West Africa.
After a 17-year military dictatorship, the members of the middle class Avoka family lurch towards destruction as their country is trying to find its footing. The father, Theo, is recruited to write the memoirs of the dictator-turned-president whom he both loathes and reveres. Zahra, matriarch of the Avoka household, rekindles an affair with an old lover and barely keeps her family and her sanity together. Theo and Zahra's son Kojo has just started at the boarding school of his dreams but finds out that sometimes dreams should remain dreams. Their help, Atsu, recently landed in from her village, struggles to understand big city living with all its temptations- money, men and lust- and a family in which the mother does not possess a single domestic skill. The climate they live in is politically complex, a time so tense the country could easily slip back into its military past.
The multi-voiced novel not only paints a picture of these tumultous changes, but also shows that tenderness can persist even when everything else is being rent apart.
Request more information
Original Language
Translation Rights
Reviews
«An evocative and bright novel where stories of family and country intersect in textured landscapes of upheaval, hope, and desire. Saturday's Shadows is at once familiar and fresh — a compelling offering from a sensitive writer.» NoViolet Bulawayo, author of We Need New Names
«Saturday's Shadows shows us how true Africans live in the 21st century' and is 'a departure from the traditional method of depicting literary Africans as folks who always lived in the past.' It's also 'a study in the psychology of tyrants and how their rule destroys not only their subjects but themselves.'» Mohammed Nassehu-Ali (author of The Prophet of Zongo Street)
«Who says that there are no good authors coming from Ghana? Shut up! Have you read Ayesha Harruna Attah?» Ama Ata Aidoo, in BBC Africa World Service
Other Books