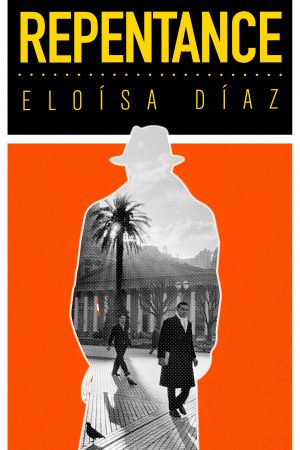 Repentance
BUENOS AIRES, 1981.
Argentina is in the grip of a brutal military dictatorship. Inspector Joaquín Alzada's work in the Buenos Aires police force exposes him to the many realities of life under a repressive regime: desperate people, terrified people and – worst of all – missing people.
Personally, he prefers to stay out of politics, favouring a steady job and a simple life with his wife Paula over the path taken by his hot-headed revolutionary brother, Jorge.
But when Jorge is disappeared, Alzada will stop at nothing to rescue him.
TWENTY YEARS LATER…
In 2001, the country is in the midst of yet another devastating economic crisis and riots are building in the streets of Buenos Aires.
Alzada stopped believing in change a long time ago: this time he is determined to keep his head down and wait patiently for the day when he can finally retire.
But when a dead body lands in a dumpster behind the morgue and a woman from one of the city's wealthiest families goes missing, Alzada is suddenly forced to confront his own involvement in one of the darkest periods in Argentinian history – a time of collective horror and personal tragedy.
Alternating between two key moments in the life of a man and his country, Repentance is a noir with a difference, featuring an unforgettable character on a quest to solve a case that offers both a painful reminder of all he has lost and a last chance at redemption.
An unnerving debut novel for readers of Elizabeth Day, Petros Márkaris, and the most upmarket literary thrillers, as well as dark literary fiction.
Request more information
Covers
Original Language
ENGLISH (World) | Weidenfeld & Nicolson
ENGLISH (US) | Agora/Polis Books
Translation Rights
ESTONIAN | Eesti Raamat
FRENCH | Le Masque/JC Lattès
GERMAN | Hoffmann und Campe
ITALIAN | Piemme/Mondadori
RUSSIAN | Sindbad Publishers Limited
SPANISH | Seix Barral/Planeta
Prizes
Shortlisted to the 2022 ITW Award for Best First Novel
Shortlisted to the 2022 CWA John Creasey (New Blood) Dagger Award
Reviews
"A dark political thriller guaranteed to satisfy fans of Andrea Camilleri, Donna Leon, and Leonardo Padura." Booklist
"Repentance is a brilliantly plotted thriller that was impossible for me to put down. Set in a Buenos Aires roiled by political corruption and economic crisis, we're introduced to the charismatic Inspector Alzada who must unravel a murder mystery in the present that unearths painful secrets from the past. Eloísa Díaz is a fantastically talented writer, and her debut is easily one of the best crime fiction reads of the year." Lauren Wilkinson, award-winning author of American Spy
"A tense debut thriller with excellent characters and a timely, satisfying plot. For fans of Philip Kerr's 'Bernie Gunther' novels." Literary Journal
"(An) outstanding debut…Aficionados of mysteries with a hard edge will welcome Inspector Alzada." PW Starred Review
"This impressive, multi-layered debut is both an evocative crime thriller and a journey back to the darkest era in Argentina's modern history" Financial Times Summer Pick
"Repentance is an apt title for this very impressive debut which works on multiple levels. It is an evocative crime thriller with a likeable, self-aware protagonist, but also skilfully explores the darkest period in Argentina's modern history." Financial Times
"A powerful crime novel...with many layers...a strong depiction of a country and a period that still simmers between the pages of history books. Recommended."  Crime Time UK
"Repentance is a sharp, well written and evocative thriller about secrecy, complicity and how far people are willing to go for both the people they love and a cause they believe in." Life With All the Books 
"A hugely impressive debut and I would not be averse to revisiting this inspector again to find out more secrets of the past and what happened next. Highly recommended!" Run Along The Shelves
"It's a strong, tension filled debut that wets the appetite for further books." Book Social
"An accomplished, inventive detective novel thrumming with tension, family secrets, and the trauma of a violent military dictatorship. Seamlessly moving between the Dirty War and the economic crisis of 2001, Eloísa Díaz displays an acute understanding of Argentine history and politics. Repentance is both a riveting noir and a moving exploration of one man's search to repair the past." Sanaë Lemoine, author of The Margot Affair
"This is an astonishingly assured first novel, written in English by a Spanish lawyer, that is both funny and moving." The Times Crime Club
"Repentance is her debut novel, and it's a beauty." CrimeFictionLover, 5*
"Admirers of Buenos Aires' impeccable stylishness will be delighted, as will seekers of new brands of fictional police work" Strong Words Magazine
"This superbly written political conspiracy thriller shuns both sentimentality and cynicism." Morning Star
"A thriller that proves what this genre is capable of." Buchkultur
"The criminal case takes a secondary seat as author knows how to impressively transport the reader to the years under the brutal dictatorship and then the demonstrations of 2001, when the Argentine people rebelled against the economic crisis." Luzerner Zeitung
"The novelist Eloisa Diaz signs a beautifully mastered novel set in a tormented historical context where family dramas intertwine with a great national tragedy. And where neutrality has become poison." Le Journal du Dimanche
"Díaz combines skilfully constructed moments of tension with a history lesson about the Argentine military dictatorship from 1976 to 1983." Frankfurter Allgemeine Zeitung