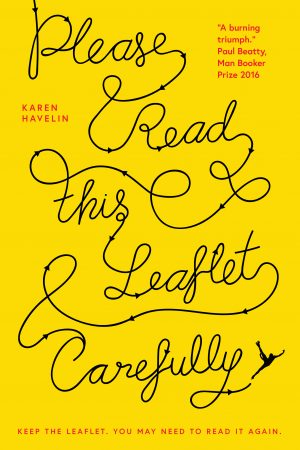 Please Read This Leaflet Carefully
Keep The Leaflet. You May Need To Read It Again
The debut novel from Norwegian writer and translator Karen Havelin, based on her own experiences of endometriosis. Written in first person and following a reverse chronology which subverts the typical illness story, Please Read This Leaflet Carefully follows Laura Fjellstad in her struggles to live a normal life.
Having been diagnosed with severe endometriosis in her twenties, she believes that the only way to survive her painful and debilitating illness is to be completely self-reliant. In between doctors appointments and in and out of hospitals, Laura confronts single parenting after her divorce, leading a life her own teenage self would be in awe of.
After many years of enduring pain and the persistent feeling of never being understood, Laura navigates her own sexuality and her unrecognized chronic condition the best she can, forced to question her beliefs as she learns to find a certain peace, even in an impossible situation. Figure skating has been her salvation together with her writing and the dream of escaping Norway and moving to NYC.
Request more information
Covers
Original Language
ENGLISH (NA) | Dottir Press
ENGLISH (UK & Comm.) | Dead Ink
NORWEGIAN | Cappelen Damm
Translation Rights
CATALAN | Angle Editorial
Prizes
Shortlisted for Not The Booker Prize 2019
Reviews
«Most books about disease try to describe the pain; told in poetic whisper, Karen Havelin's debut novel lets pain speak for itself. It's a book that dares you be nosy, to eavesdrop and listen in to a stoic young woman whom no one noticed until she began to disappear, her body disintegrating from the inside out until there's nothing left but searing agony and almost impossibly – a burning triumph.» Paul Beatty, Man Booker Prize Winner 2016
«Karen Havelin writes with astounding sensitivity and grace of the vulnerability of the body, that abject and essential container within which we live our entire lives.  With a keen eye for detail and a boundless capacity to evoke empathetic thought, Havelin's debut is a revelation.» Alexandra Kleeman, author of You Too Can Have a Body Like Mine
«This intense study of endometriosis, its agonies and its neglect by medical science, is very powerful ... Havelin dares you to turn away – but that's impossible» Sam Jordison, Guardian
«A forceful debut … [a] screed on the fight for normalcy against a backdrop of persistent agony» Publishers Weekly
«A fiercely told and beautifully rendered story of reclamation: of body, of love, of self.» Hala Alyan, author of Salt Houses
«A superbly written and incredibly graceful novel about the things that really matter: love, mortality, and all the beautiful things that keep us alive.» Gary Shteyngart