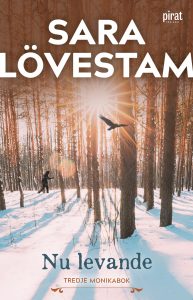 Now Alive
Third Book of Monika
After eleven years of torment, everything brightens for Monika, when she slowly makes peace with the idea of ​​stopping trying to have children. But Claes, who is suddenly a part of Monika's life, has other ideas - there are still methods to try. Monika's longing for children is rubbed right down to the bone, but should she explore this new possibility with Claes?
Meanwhile, a two-hundred-year-old mystery surfaces, when Monika's hunt for the truth about her ancestors leads her to an unsolved murder among settlers and reindeer herders in 19th century Arvidsjaur. She digs deeper and deeper into the roots of her family tree. Can she come to terms with not building on its branches?
With Now Alive, Sara Lövestam concludes her magnificent Monika Books Trilogy, which has been hailed in unison by readers and critics.
Request more information
Original Language
Reviews
"For those who are struggling with the issue, here is a reminder that we can fill our lives with meaning all on our own - and that a happy ending can look different than you think." Anna Andersson, Aftonbladet
"It was almost ridiculously entertaining to read about Monika's existential anguish. I was overjoyed from the beginning. Embarrassing everyday situations are joyfully reproduced by the master of language nuances Sara Lövestam. The Monica Books point out that stories are vital." Bodil Juggas, Dala Democrats