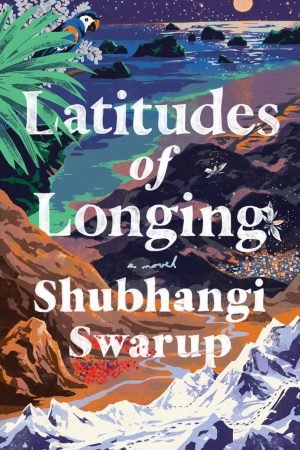 Latitudes of Longing
A sweeping debut novel about the desire and longing between humanity and the earth itself—by a major new literary talent from India.
Latitudes of Longing follows the interconnected lives of characters searching for true intimacy as they venture across the Indian subcontinent to tell an epic love story. We follow a scientist who studies trees and a clairvoyant who speaks to them; a geologist working to end futile wars over a glacier; octogenarian lovers; a mother struggling to free her revolutionary son; a yeti who seeks human companionship; a turtle that experiences miraculous transformations; and the ghost of an evaporated ocean as restless as the continents. Binding them all together is a vision of life as vast as the universe itself.
Richly imaginative and wryly perceptive, Latitudes of Longing offers a soaring view of humanity: our beauty and our ugliness, our capacity to harm and to love each other, and our mysterious and sacred relationship with nature.
Request more information
Covers
Original Language
ENGLISH (World except Indian subcontinent) | One World / Penguin Random House
ENGLISH (India) | HarperCollins India
ENGLISH (UK) | riverrun/Quercus
Translation Rights
BULGARIAN | Colibri
CHINESE (Complex) | Rye Field Publications
CATALAN | Sembra Llibres
DUTCH | Hollands Diep
FRENCH | Éditions Métailié
GERMAN | Kommode Verlag
ITALIAN | Ponte alle Grazie
KOREAN | Marco Polo Press
NORWEGIAN | Gursli Berg Forlag
RUSSIAN | Phantom Press
SERBIAN | Dereta
SPANISH | Duomo
SWEDISH | Louise Bäckelin/Modernista
TURKISH | April Publishing House
Prizes
Longlisted for the International Dublin Literary Award 2020
Longlisted for the DSC Prize for South Asian Literature 2019
2018 Winner of the Tata Literature Live! First Book Award for Fiction
Longlisted for the JCB Prize for Literature
Winner of the Sushila Devi Award for the Best Book of Fiction Written by a Woman
A bestseller in India and Sweden
Reviews
New York Times Book Review, New and Noteworthy
US Weekly, Books Stars are Reading Amid Quarantine
Read it Forward, Best Books of Summer 2020 that we can't wait to read
The Millions, Most Anticipated Books: May Preview
Lit Hub, 20 Books To Look Forward This Week
The Millions,Most Anticipated 2020
Oprah Magazine, 28 of the Best Books to Transport You This Summer
"A marvel of magical realism—a love story between an Oxford-trained scientist who studies forests and a clairvoyant who sees wraiths and communes with trees. It's also an ode to the Hindu notion of Oneness; the author writes of Girija's attraction to his wife: 'On her forearm, he can spot a ridge. On her feet, a river. Her throat, a restless waterfall created by her hair.' " The Oprah Magazine
"In the midst of a pandemic, I am seismically attuned to disaster. It is liberating, even joyful, to experience the world of Latitudes of Longing, especially when that world does somersaults. I feel the way Victorians might have, reading a ship captain's diary and imagining myself salt-stung and free. Latitudes is a reminder that the earth itself is alive, and that even in our isolation we are members of a changing world. In the timescale of this novel, bedrock moves, lighthouses unmoor, and you can feel the ground wander." Guernica
"Experimental, sweeping, epic."  Goop, a goop Book Club Pick
"My summer intention is to join Shubhangi Swarup, Masha Gessen, Silvia Moreno-Garcia, Brit Bennett, Marisel Vera, and the other extraordinary women of the world." Oprah Winfrey
"The lush monsoon-soaked Andaman Islands. The snow deserts of Ladakh. The valley of Kathmandu. The jagged edge of Burma. Swarup's lyrical debut exalts in the majesty of the South Asian subcontinent by framing every one of her characters against these spectacular landscapes. . . . Generous doses of magical realism mixed in with regional folklore add to the atmospheric charm. . . . These sumptuous and haunting narratives confirm a character's worst suspicion that 'reality is the worst story ever written.' Fiction is infinitely better, especially when it offers true escape like this one." Booklist, STARRED Review
"[Swarup's] debut novel will certainly be one of the most wondrous literary achievements to hit the shelves this year. A multigenerational epic intertwined with spellbinding myths, Swarup's is a many-layered narrative. . . . Extraordinarily affecting, this work should be a priority acquisition for all libraries with astute, globally hungry patrons." Library Journal, STARRED Review
"Swarup debuts with an inventive novel in stories that features a multigenerational cast in search of love and worldly purpose. . . . By integrating magical elements—talking glaciers and yetis appear—Swarup eschews conventional love stories to focus instead on many forms of desire, while the zigzagging across time and place. This offers beautiful depictions of humanity through a successfully experimental form."  Publisher's Weekly
"A promising debut novel sweeps through a series of stories that join human lives to the natural world. . . . Made up of four linked novellas. Their titles—Islands, Faultline, Valley, and Snow Desert—suggest the book's emphasis on how people connect (or don't) to their planet. . . . The book vividly recounts their often humorous, sometimes surreal, and ultimately touching relationship."  Kirkus Review
"An exuberantly flowing novel… a promising debut." Mail on Sunday, 'Best New Fiction' column
"Latitudes of Longing is beautifully written in lush, lyrical prose. . . . Swarup's mind-bending narrative gives us talking ghosts and glaciers, but in a way that feels original and real. . . . Readers will stay with Swarup for these vibrant creations, and for the depth of her insights. Her novel on the importance of connectedness and the dangers of repeating past mistakes feels particularly pertinent right now: 'What happens every few hundred years just happened yesterday and can happen again tomorrow.' " Irish Times
"Honest and visceral and terrifying." Scotland on Sunday
"A thoughtful, philosophical, book and the result of years of immersive research in the locations described, from the islands of the Indian Ocean to the high Himalayas." Press Association
"Combining magical realism with an ecofeminist backdrop, Swarup takes readers across South Asia in her lovely, original and lyrical debut with themes of love, connection, nature and humanity." MS Magazine, May Reads
"Astonishing and completely original, Shubhangi Swarup's magical novel will change the way you see people—and landscapes, forests, the oceans, snow deserts." Nilanjana S. Roy, author of The Hundred Names of Darkness
"Ecological novel that presses all the right buttons" Irish Examiner Review
"At fourteen years old I was assigned Paolo Coelho's landmark novel The Alchemist for summer reading . . . Over ten years later, I've considered picking it up again. To see if I'm stirred by the magic, as I was upon reading Latitudes of Longing by Shubhangi Swarup." Chicago Review of Books
"A spellbinding work of literature, Latitudes of Longing follows the interconnected lives of characters searching for true intimacy. The novel sweeps across India, from an island, to a valley, a city, and a snow desert, to tell a love story of epic proportions." Read It Forward
"[Latitudes of Longing] deepens the understanding of the eternal longing suffered by the people, their ghosts, and the planet." Southern Review of Books
"Incandescent! What a treasure. Thank you for this gem. It should be galloping across the galaxies. Or maybe not, so that those of us who have run into it can keep the experience as a cultish and delectable secret!" Yvonne Adhiambo Owuor, author of The Dragonfly Sea and Dust
"This daring novel, gloriously lyrical but excitingly precise, and steeped in the flora, fauna, history, and politics of that enthralling region between the Andaman Islands and the Tibetan plateau, gives us the sweep of human drama among astonishingly rich natural and geographical complexity. . . . Breathtaking." Ruth Padel, author of Where the Serpent Lives and Tigers in Red Weather