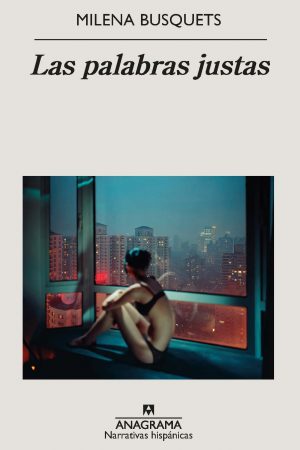 Just the Right Words
Milena Busquets' most intimate and vital work delves into a writer's everyday nature.
This diary's protagonist is a writer with the endless ability to renew her way of looking at the world around her. Straightforward, passionate, intelligent and a little helpless, she searches for just the right words to seize an complex and everchanging reality, without giving up elegance and honesty.
In these pages, facemasks make an appearance from time to time but what really appears is life: her sons, her lovers, yoga classes, therapy sessions, chance encounters, reunions, walks around the neighborhood, writing as a daily workout… And also seduction and the pass of time, disquisitions on true elegance, Proust, the vital literary lessons of Chekhov, the tearful emotion at watching the celebration of life that is Spielberg's West Side Story or a hilarious list of types of readers that she observes during long book signing sessions at book fairs. And love, always love…
Falling in love, friendship, literature, writing and refined irony, consolidate the literary universe of the internationally-acclaimed author of This Too Shall Pass.
Request more information
Original Language
Translation Rights
Other Books