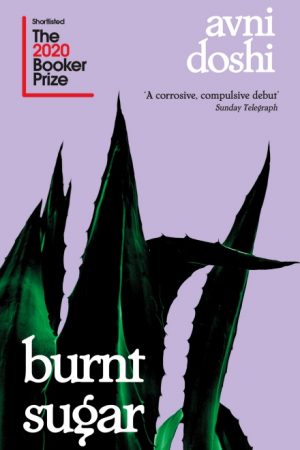 Burnt Sugar
A sly and searing debut from an unmissable new voice in literary fiction.
«I would be lying if I said my mother's misery has never given me pleasure.»
In her youth, Tara was wild. She abandoned her loveless marriage to join an ashram, endured a brief stint as a beggar (mostly to spite her affluent parents), and spent years chasing after a dishevelled, homeless 'artist', all with her young child in tow. Now she is forgetting things, mixing up her maid's wages and leaving the gas on all night, and her grown-up daughter is faced with the task of caring for a woman who never cared for her.
This is a love story: a tale of obsession and betrayal. But not between lovers: between mother and daughter. Sharp as a blade and laced with caustic wit, Burnt Sugar unpicks the slippery, choking cord of memory and myth that binds two women together, making and unmaking them endlessly.
Request more information
Covers
Original Language
ENGLISH (Indian subcontinent) | 4th Estate / HarperCollins India
ENGLISH (UK & Comm. excluding Canada and the Indian subcontinent) | Hamish Hamilton / PRH UK
ENGLISH (US & Canada) | The Overlook Press
Translation Rights
ARABIC | Sefsafa Culture & Publishing
CATALAN | Edicions de 1984
CROATIAN | Hena-Com
DUTCH | Xander Uitgevers
FRENCH | Éditions Globe
GERMAN | btb Verlag
GREEK | Klidarithmos publications
HINDU | HarperCollins India
HEBREW | Aryeh Nir Publishing House
HUNGARIAN | Park Kiado
ITALIAN | Casa Editrice Nord
JAPANESE | Hayakawa Publishing Corporation
KOREAN | Munhakdongne Publishing
LITHUANIAN | Alma Littera
MARATHI | Manjul Publishing House
POLISH | Foksal
PORTUGUESE (Brazil) | Dublinense
PORTUGUESE (Portugal) | Dom Quixote
ROMANIAN | Humanitas
RUSSIAN | Eksmo
SINHALA | Subhavi Publishers
SPANISH (World) | Temas de Hoy / Planeta
SERBIAN | Booka
SLOVAK | Inaque
TURKISH | April Publishing House
Film Rights
FILM RIGHTS SOLD
Theatre rights sold to The Lot.
Prizes
Reviews
"Impressively assured…It's the mother's selfishness and instability that makes Antara such a complex character, hypersensitive, anxious and filled with rage." San Francisco Chronicle
"Avni Doshi isn't just a talented writer, she is an artist. She knows the difference between a line and shade — both start the same way, but intention and style inform their difference. Doshi's sentences are sharply drawn and devastatingly precise. There is never a wasted word, no debris, no flourish to hide behind. A voice this unadorned, and blunt, is so hauntingly stubborn and original, you want to hear from it again and again." The New York Times
"Burnt Sugar is a searing debut novel from New Jersey native Avni Doshi… The tightness and tension immediately establishes a sense of urgency that propels the narrative forward." Toronto Star
"5 Books Not to Miss" USA Today
"Burnt Sugar is an incredible novel with messages and characters that remain with its reader far beyond the final line. In this sometimes humorous, sometimes dark, always ephemeral piece of literature, Avni Doshi unspools an original take on the theme of inheritance—what we take on willingly and unwillingly." New York Journal of Books
"Fascinating and oozing with charm."  Trouw
"Burnt Sugar is a work of extraordinary insight, courage and sophistication." The Washington Post
"It's not that Doshi has written something no one has ever thought before; it's that she's written something no one has ever expressed so exquisitely — and so baldly." The Washington Post
"Avni Doshi pursues this psychological dependency to depths few writers would be brave enough to fathom." The Washington Post
"This is, among other things, a challenging interrogation of the presumption that a book's protagonist should be likable. Where can our sympathies find purchase with this woman who is devoted to her mother and yet filled with rage toward her? Our simultaneous revulsion and attraction stems, I suspect, from the nagging suspicion that Antara is dragging us toward a species of candor that's terrifying." The Washington Post
"This is not a book to be missed at any cost. The Booker may have eluded Doshi this time, but it is certainly waiting for her down the line, given the electrifying quality of her writing." Hindustan Times
"Doshi's portrayal of troubled mother-daughter intimacy is viscerally poetic. This has the heft and expansiveness of a classic 19th-century novel." Publishers Weekly Starred Review
"The whole book is caustic and heartbreaking in equal measure, but the last gesture is particularly unforgettable: a spiraling, feverish set piece that shook me to my core. A daring, excellent first novel." ET
"A landmark portrait of toxic parenting and its tangled aftermath." Kirkus Starred Review
"Burnt Sugar is an extraordinary confection... an elegantly written family story that sizzles with hatred and is impossible to put down… fearless and scathing… a towering, mythic quality…painfully exhilarating…this is an exquisitely written novel…come for the effortlessly stylish writing, stay for the boiling wrath." Observer
"A compulsive debut from Avni Doshi that explores a fraught mother-daughter relationship in middle-class India."  Harper's Bazaar UK
"Burnt Sugar is an unsettling, sinewy debut, startling in its venom and disarming in its humour from the very first sentence." Guardian
"Visceral and angry, yet gorgeously written, it squeezes the reader like toothpaste through the toxicity of these two women's relationship. Hard to read, impossible to forget." Penguin Recommendations
"Burnt Sugar by Avni Doshi — I read it when it came out in India last year and it is absolutely exquisite. The American edition will be out in spring 2021 and I can't wait to read it again." Diksha Basu, author of The Windfall
"Avni Doshi is a writer of surgical precision and sharp intelligence. This novel of mother-and-daughter resentments and the deep, intimate cuts of ancient family history gleams like a blade — both dangerous and beautiful. I loved it." Elizabeth Gilbert, bestselling author of Eat, Pray, Love
"Acerbic, full of wit and cool intelligence, but also brilliantly poetic and passionate – every sentence is a coiled spring and each psychological portrait burns itself into the mind. I couldn't put it down." Olivia Sudjic, author of Exposure and Sympathy
''Crystalline and almost surgical, an elegy and an exorcism... This is a compulsively readable examination of toxic relationships and the ties that bind us." Sharlene Teo, author of Ponti
''Taut and unsettling, a dark, ferocious novel." Fatima Bhutto, author of The Runaways
''Raw, wise and cuttingly funny, Burnt Sugar explores dependence and independence, marriage and motherhood, and one woman's fight for her sense of self as love and cruelty intertwine until they become near-indistinguishable." Rowan Hisayo Buchanan, author of Starling Days
''A courageous novel written in spare, gleaming sentences. It made me hold my breath and gather it up again." Tishani Doshi, author of Girls Are Coming Out of the Woods
''Poignant and economical, it speaks of motherhood and memory, trauma and truth-searching, love and the language for it." Vogue India
''Avni Doshi writes fearlessly, with a cruel, almost terrifying intelligence. I was discomfited and exhilarated by it." Meng Jin, author of Little Gods
''Remarkable, disquieting, hypnotic. [Avni Doshi] has plunged into the depths of the soul, to show us what we are made of." Hindustan Times
''This utterly compelling read examines a complex and unusual mother-daughter relationship with honest, unflinching realism – sometimes emotionally wrenching but also cathartic, written with poignancy and memorability." Booker Prize 2020 Judges
''Excellent. A fascinating and unsettling novel about the limited power afforded to women and the price they pay for acting in their own interest… It both provokes unease and always rings true." India Today
''Definitely a must-read, it's going to keep you turning pages right till the end!" Delhi Planet
''An unflinching look at familial bonds and how they damn us and unravel us." Indian Express
''A raw, vividly described exploration of the toxic relationship between two women who are forever bound together." Good Housekeeping
''Set in the Indian city of Pune, Burnt Sugar is a sly, slippery, often heartbreaking novel about the role memory plays within families." Moya Crockett, Stylist
"Doshi's visceral debut is a no-holds-barred excavation of how hate can both poison and sustain." Daily Mail
"Doshi's lashing, acerbic prose is as equally full of hand-whipped tension as dalgona coffee; through the tense narrative, she excavates devastating observations about scorched family ties." Electric Literature 
Stylist, The Best Summer Reads of 2020
BBC Radio 4 Front Row, Interview
Bookanista, Interview
"Horror stories from the past seep into the present, as Doshi builds her portrait of a fractured mother-daughter relationship… Doshi's prose is arresting and her ideas fiercely intelligent." Sunday Times
"Precisely written, and told from a resolutely unsentimental perspective, Avni Doshi's novel explores what happens when a difficult mother start to fade into illness and mental decline. As the title indicates, this is a novel that often leaves a bitter taste in the mouth, but that's a deliberate and often bracing effect. The author bravely pushes the limits of the reader's sympathy. This is a compelling book, often beautifully written and with startling imagery, emotionally wrenching and poignant in equal measure." Sameer Rahim, 2020 Booker Prize judge
The Prospect Interview: Writing the Booker Prize-shortlisted Burnt Sugar
"This is an intelligent debut, deserving of its Booker shortlisting. Burnt Sugar is sorrowful, sceptical and electrifyingly truthful about mothers and daughters." The Guardian
"A startling exploration of memory, loss, and motherhood." We're All Difficult Women Now: Talking With Avni Doshi - The Rumpus.net