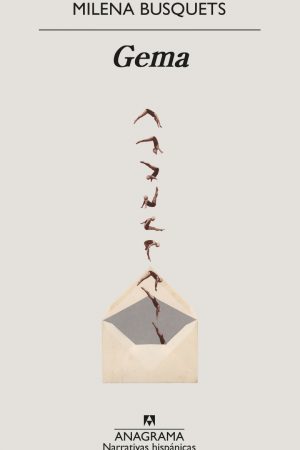 Gema
The life of a forty-something writer passes without a big shock, between her two children and a relationship that seems about to end. But that reasonably placid existence is shaken by the reappearance of a ghost from the past in the form of a sudden memory: Gema.
Gema was a schoolmate who died of leukemia at the age of fifteen, one of the two deaths that marked her childhood; the other was that of her father, but he had lived a lifetime, while Gema left early. What existence would she have had? Who would she have become? When did she last see her? Did she get a chance to say goodbye? Why has time been diluting the memory of the dead friend?
Trying to rescue Gemma from oblivion, the narrator begins a search that will take her to meet with old friends who also knew her, to look for some group photo of the class, to visit the school, to track down obituaries in a newspaper, to inquire about what happened with the restaurant that the girl's parents had...
This is a novel about the past that we think we have forgotten but that haunts us, about the losses that mark us and the need to say goodbye. But it is also a novel about the will to live and the small joys of the everyday life, about love -to lovers, to children- and about the friendships that accompany us even after disappearing.
The book, both light and deep, full of vitality and sorrow, confirms the talent of Milena Busquets after the extraordinary international success of her previous novel, This Too Shall Pass, and it allows us to enjoy again her unique ability to address emotions and feelings with an inimitable style that has earned her a legion of faithful readers.
Request more information
Covers
Original Language
Translation Rights
CATALAN | Amsterdam/Ara Llibres
DUTCH | Meulenhoff
FRENCH | Gallimard
GERMAN | Suhrkamp
ITALIAN | Solferino

Reviews
"Pure and infinitely refreshing." Livres Hebdo
"There's a little bit of Sagan underneath, an infinite elegance." Livres Hebdo
"In her light, clean, concise way, free from verbal rhetoric and psychological vehemence, is how Busquets provides a credible and interesting voice. Gema is  a lucid, warm and emotional reportage of the adventure of living." El Cultural
"Milena Busquets builds an amazing double-bottomed novel, a concentrated of vitality, sensitivity and humor that conceals behind its apparent lightness a cathartic reflection on what makes the complex beauty of our lives heckled". Leonard Desbrières, LIRE
"There are colors in these pages, a light. The heroine regrets the disappearance of frivolity, evokes." Éric Neuhoff, LE FIGARO LITTÉRAIRE
"The ingenuity of Busquets is an aesthetic as well as an ethical bet, an imperative of lightness" Babelia, EL PAÍS
"In its pages, almost the same as those of the previous work, Milena Busquets is once again prolific in phrases to underline, insisting on the magic of each word and recalls a childhood that could well be hers." VOGUE
"Written with a carefree tone, Gema is, despite everything, a novel about the will to live and the little joys of everyday life that moves away from nostalgia." El Cultural
"The reader, who keeps a fresh memory about This Too Shall Pass, the title with which Milena Busquets woke up to publishing success in 2015, and now reaches the pages of Gema, will think, not without reason, that it is the same novel from a different angle. And this is not a objectionable aspect but rather the opposite. For a novelist to survive the avalanche of praise that that book garnered and be, years later, capable of maintaining freshness in the story of her life - because self-fiction, so in vogue in current narrative, is the genre that she has been cultivating - says more about who she is than who she wants to be." EL DIARIO DE SEVILLA
Other Books