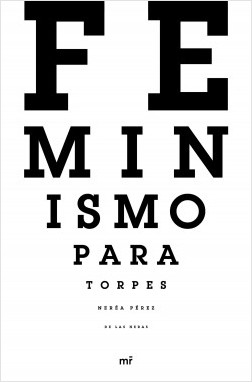 Feminism For The Clumsy
Being a conscious feminist is not like looking at the world through a purple filter. It's taking off your dirty, scratched and ill-fitting glasses, which someone put on you when you were young, and seeing things for what they really are. I took mine off when I was working for a fashion magazine and shortly after I took my first steps as a feminist comedian.
This is a story that takes you from demonstrating activists to the highest echelons of female power; from the 8th of March movement to those who resist change, discovering that many things that appear feminist are not. Feminism For The Clumsy is built on the author's own experiences and those of her generation, and it works like a 'mental toolbox' to establish that 'without feminism there is no democracy, no justice, no evolution, possible'.
Request more information
Original Language
Reviews
Journalist Nerea Pérez de las Heras looks at the fight for equality in the 21st century from a humorous perspective
Ideas for becoming an accessible, instructive and zero radical feminist
Feminism For The Clumsy was born as a theatre workshop to reeducate the 'macho mentality man' and is now a successful video series in Spain's largest newspaper, El País
For fans of Bridget Christie and Caitlin Moran