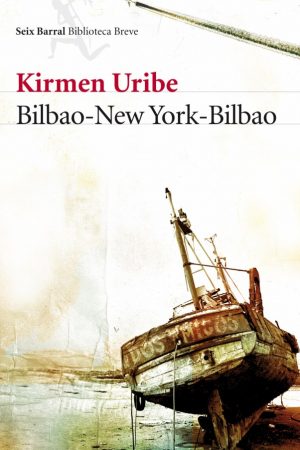 Bilbao-New York-Bilbao
Bilbao-New York-Bilbao earned Kirmen Uribe, at 39, the biggest and most prestigious literary distinction for a Spanish author, the National Prize of Literature, confirming him as one of the most interesting and original novelists in Basque and in Spain.  Bilbao-New York-Bilbao was celebrated as a major literary event, sold over 100.000 copies and has been translated into over a dozen languages.
Bilbao–New York–Bilbao is set on a hypothetical flight that its narrator, a Kirmen Uribe, takes from Bilbao's Loiu Airport to New York's J.F.K. On the flight the writer contemplates his supposed novel-in-progress, which is about three generations of a family, his own, whose life is bound up with the sea.
Bilbao–New York–Bilbao is a novel with no conventional plot to speak of. Its structure is that of a net, and the knots of the net are the stories of the three generations as they intersect with crosswise stories and reflections on the 20th century and on the art of writing.
Request more information
Original Language
Translation Rights
ALBANIAN | Toena
BULGARIAN | Enthusiast
CATALAN | Edicions 62
ENGLISH (World) | Coffee House Press
ESTONIAN | Loomingu Raamatukogu
FRENCH | Gallimard
GALICIAN | Xerais
GEORGIAN | Ilia University Press
JAPANESE | Hakusui Sa
PORTUGUESE | Planeta Manuscrito
RUSSIAN | Gernikapress
SERBIAN | Geopoetika
SLOVENIAN | Cankarjeva Zalozva
SPANISH | Seix Barral
Reviews
«Uribe's literature deepens its roots in the Basque Country, but it's completely universal.» The Harvard Book Review
«His works enlighten the path for memory.» Los Angeles Time Book Review
«This book is as beautiful as a memory.» Le Figaro
«Uribe has succeeded in realizing what is surely an ambition for many writers: a book that combines family, romances and literature, anchored deeply in a spoken culture but also in bookishness —and all without a single note of self-congratulation.» Ollie Brock, The Times Literary Supplement
«The novel is set in a absolutely modern territory, usual place of key writers of our time as Emmanuel Carrère, WG Sebald, Orhan Pamuk and JM Coetzee.» Sudouest
Other Books