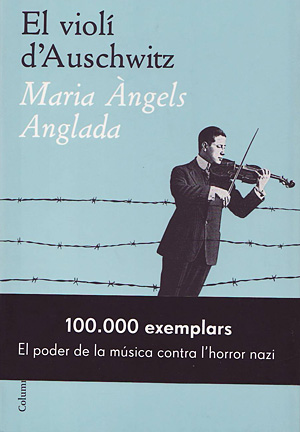 The Violin of Auschwitz
In the winter of 1991, at a concert in Krakow, an older woman with a marvelously pitched violin meets a fellow musician who is instantly captivated by her instrument. When he asks her how she obtained it, she reveals the remarkable story behind its origin. . . .
Imprisoned at Auschwitz, the notorious concentration camp, Daniel feels his humanity slipping away. Treasured memories of the young woman he loved and the prayers that once lingered on his lips become hazier with each passing day. Then a visit from a mysterious stranger changes everything, as Daniel's former identity as a crafter of fine violins is revealed to all. The camp's two most dangerous men use this information to make a cruel wager: If Daniel can build a successful violin within a certain number of days, the Kommandant wins a case of the finest burgundy. If not, the camp doctor, a torturer, gets hold of Daniel. And so, battling exhaustion, Daniel tries to recapture his lost art, knowing all too well the likely cost of failure.
Originally written in 1994 and recently republished to great success, The Violin of Auschwitz is a short masterpiece, a touching story that serves as a profound meditation on human dignity and resistance in the face of horrific adversity.
Request more information
Original Language
Translation Rights
ENGLISH (North America) | Bantam Dell
ENGLISH (UK) | Corsair
ENGLISH (Australia) | Text Publishing
DANISH | Turbine Forlaget **rights available again
DUTCH | De Geus **rights available again
FINNISH | Bazar Forlag **rights available again
FRENCH | Stock (trade) Le Livre de Poche (pocket)
GERMAN | Luchterhand/ Random House **rights available again
GREEK | Konidaris **rights available again
HUNGARIAN | Libri Kiadó **rights available again
ITALIAN | Rizzoli/RCS Libri **rights available again
NORWEGIAN | Bazar Forlag **rights available again
POLISH | Muza **rights available again
PORTUGUESE (Brazil) | Globo
PORTUGUESE (Portugal) | Dom Quixote
ROMANIAN | Meteor Press **rights available again
SERBIAN | Dereta **rights available again
SINHALA | Sachie Publications
SPANISH | Destino/Planeta
SWEDISH | Albert Bonniers Forlag **rights available again
Reviews
"A very moving story that is as concerned with the transcendent power of art as it is with the dehumanizing trauma of the Holocaust. Anglada writes with elegance and subtlety, the brevity of the story only adding to its emotional power." John Boyne, author of The Boy in the Striped Pyjamas
"Read this little book and it will haunt you forever. It vibrates with the sheer horror of inhumanity and the beautiful power of music." Tatiana de Rosnay, author of Sarah's Key
"A masterwork of delicacy." Elle
"A distressing and thrilling fight to survive thanks to art, music, and the ability of hands and heart." El Giorno
"A simple and moving book, written with crystalline simplicity, intense passion, and lively, stirring humanity." La Republica
Other Books