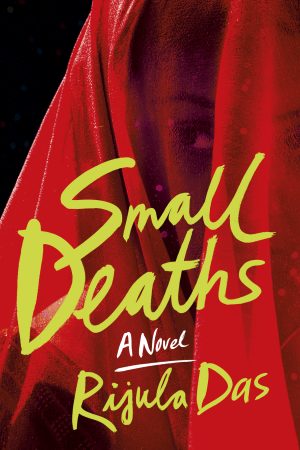 Small Deaths
A Death in Shonagachhi
A staggering debut novel of murder, loyalty, love, and survival at all costs, set in the teeming underbelly of Calcutta's most infamous neighborhood.
In Calcutta's notorious red-light district, Lalee aspires to a better life. Her unfailingly loyal client Tilu Shau has dreams too. A heady romantic and marginal novelist, Tilu is in love with the indifferent Lalee and wants to liberate her from her street life with marriage. But when a fellow sex worker and young mother is brutally murdered, the solicitous madam of the Blue Lotus invites Lalee to take the woman's place "upstairs" as a high-end escort. The offer comes with the promise of a more lucrative life but quickly spirals into violence, corruption, and unfathomable secrets that threaten to upset the fragile stability of Lalee's very existence. As Tilu is drawn deeper into his rescue mission, he and Lalee embark on life-altering journeys to escape a savage fate.
As much a page-turner as it is poignant, Small Deaths is a brilliantly drawn modern noir that exposes the reality of society's preyed-upon outcasts, their fierce resilience, and the dangerous impediments that stand in the way of their dignity, love, and survival.
Request more information
Covers
Original Language
ENGLISH (Indian subcontinent) | Picador India
ENGLISH | Amazon Crossing
Translation Rights
FRENCH | Seuil
RUSSIAN | Ripol
Film Rights
Screen rights sold to Drishyam Films.
Prizes
Reviews
"Das's searing debut centers on the plight of sex workers in contemporary Calcutta, India. This devastating novel is in turn touching and painful to read. Das, a Bengali-to-English translator, is definitely a writer to watch." Publishers Weekly, starred review
"An intensely gripping tale of a crime that is, at the same time, a story that is luminous with redeeming touches of love and hope, and a final sense of justice." Judges of the 2021 Tata Literature Live! Awards
"Rijula Das has evaded the prevalent tropes of writing. It is very difficult to pin down the genre she is writing in – is it a love story for instance, is it a murder mystery, is it a novel about social justice? The book gives light to the popular and wrong notion that literature needs to necessarily be heavy. It manages to achieve everything that good literature does while at the same time being entertaining. It is full of beautiful humorous touches and outstanding at zooming into details." Judges of The JCB Prize 2021
"Though Rijula Das' A Death in Shonagachhi has won the First Book Award at Tata Literature Live!, no number of accolades seem enough for this gem of a novel." India Today
"A pointillist story about a sex worker's life, A Death in Shonagachhi is a skilled debut." The Hindu
"The women of Shonagachhi want to claim their rights as workers, unionise, and ensure safety. What does 'choice' mean in their context? If they decide to leave, where can they go? If they opt to stay, what are the avenues available for them to improve their own lives or the lives of their children? What are the costs and consequences that accompany these choices? Das examines these questions, gently and gradually, in this memorable novel that deserves to be read especially by people who are wary of picking up books written by first-time authors." Firstpost
"Rijula Das surprises you with everything in this book. The writing, the scenes, the characters, the story. A debut you cannot stop reading." Arunava Sinha
"Addictive and hilarious. Rijula Das is a writer to watch." Avni Doshi, author of Burnt Sugar, Shortlisted to The Booker Prize
"It takes a keen insight to portray women like Lalee, Maya, Amina and Sonia in all their profundity and shallowness. Das knows her women well." Feminism in India
"This debut novel eschews a smart script in favour of the real, messy world" Scroll.in